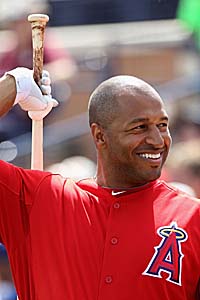 By Matt Snyder
As we get close to the end of two full weeks of baseball in the 2011 regular season, we're already being treated to our fair share of boobirds in many major-league stadiums. It's a long season, but out of the gate every fan base has at least a modicum of hope for the campaign. When things don't go as planned, players get booed. That's nothing new.
It's just that, on a personal level -- and I'm sure I'm not alone -- some of the booing frustrates me. Allow me to use an example to illustrate.
Vernon Wells
was traded to the
Angels
in the offseason and the deal was met with mostly venom from Angels fans. He's gotten off to a poor start and is getting booed. Presently in the
OC Register 's Angels Blog
, there's a poll to see why fans are booing him. Shockingly (I'm being sarcastic), the No. 1 reason he's getting booed is because of his contract. Not because he's making mental mistakes or isn't playing hard. Nope, because he makes too much money.
It reminds me, in a way, of
Alfonso Soriano
in Wrigley Field. He leads the
Cubs
in home runs and RBI while sporting a nice .871 OPS thus far. He's had several clutch hits at home. But when he failed to haul in a fly ball -- on a dead sprint up against the wall in the corner, mind you -- he was booed. It wasn't even ruled an error. Meanwhile,
Tyler Colvin
is hitting .115 with a horrible .503 OPS and hasn't heard a single negative word. Reverse the stat lines and imagine how much Chicago would be in love with Colvin and despising Soriano. The reason for this is obviously the difference in contract.
My annoyance with things like this exists on several levels.
First of all, every single player in the league is loaded. The league minimum is $414,000. What percentage of fans make even close to that? If you want to just hate all rich people, please stop watching network TV shows, attending movies and definitely don't listen to most music. Those people all make way more than you, too. And if their performances could be measured in such things, they wouldn't be hitting a home run every single time out either.
Secondly, the players I mentioned above are playing hard and aren't bad clubhouse guys. I can't think of a time I ever heard a cross word from teammates of Soriano or Wells. We aren't talking about
Milton Bradley
and Manny Ramirez here.
Also, let us not forget someone had to offer those contracts. If you're Soriano, are you going to turn down that money, saying you are going to be almost 40 years old before it expires and there's no humanly way you'll be even close to the 40/40 mode by then? If you're Vernon Wells, should you tell the Angels not to make the trade because you aren't nearly as good as the contract you were offered by Toronto brass?
Look, there's definitely a place for booing. If someone pulls a Manny and dogs it because he doesn't feel like running out a grounder, by all means boo loudly. If someone makes a series of mental mistakes, again, bring those boos down. If a player is selfish enough to get suspended for using PEDs and returns, let him hear it. The players are professionals and shouldn't be giving anything less than 100 percent effort or professionalism -- just the same as none of us should in our respective professions.
I also understand that when you purchase a ticket you have every right to boo players for whatever reason you wish, but do you really wanna be that petty, jealous person who just screams and boos based upon salary? I just don't understand how booing a player for physical performance due to a salary he was offered by someone else is productive for anyone.
If he's giving it his all, someone like Wells should at least be allowed time to bust out of his early funk. After all, he's played 10 games. In 157 games last season he hit 31 home runs with an .847 OPS. He'll start hitting sometime soon.
For more baseball news, rumors and analysis, follow @cbssportsmlb on Twitter or subscribe to the RSS feed.