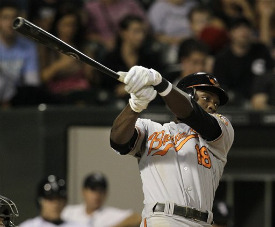 It's probably a good thing
Orioles
outfielder
Felix Pie
isn't going to face
White Sox
starter
Mark Buehrle
again this season, because Buehrle has a beef.
Buehrle gave Pie an earful as the outfielder ran off the field in the sixth inning Wednesday night. Those who overheard say the pitcher was accusing Pie of stealing signs and relaying them to batters, and warning him that there would be consequences for Orioles batters if he didn't knock it off.
Buehrle told a
Chicago Tribune
reporter simply that "I let him know how I felt," and Pie told the
Baltimore Sun
"I don't know what he says. I don't play that game."
Stealing the catcher's signs is one of those things that happens in baseball with some frequency, but you'd better not get caught doing it unless you want a fastball in the square of your back.
As the
Sun
pointed out, the outburst might have had something to do with frustration over Pie's success against the Sox -- he's 5-for-7 with a walk in the first two games of the series. Ironically, the one person his alleged sign-stealing doesn't benefit is Pie.
-- David Andriesen


For more baseball news, rumors and analysis, follow @cbssportsmlb on Twitter or subscribe to the RSS feed .