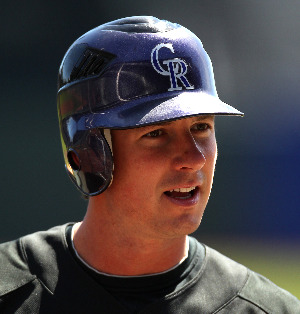 The market for lumbering outfielders/first basemen who can pop home runs is growing.
As teams shy away from
Adam Dunn
in what is probably an attempt to get Washington to lower its asking price, names like
Lance Berkman
pop up
, along with
Brad Hawpe
.
Troy Renck of the Denver Post reports that
the
White Sox
and
Padres
have inquired as to Hawpe, who is in the final year of his guaranteed contract paying out $7.5 million. He has a buyout for $500,000 and a club option for $10 million that is a lock not to be picked up.
Hawpe, a liability on defense, is in the midst of his poorest season since 2005, when he appeared in 101 games as a 26-year-old. He is generally good for 25 home runs a year and cranked a career-high 42 doubles in 2009. His career average is .285, so he brings a solid, all-around offensive package to the table.
The knock against Hawpe is not only his defense but his poor play on the season. Hawpe got off to a scorching start in April but since then has been lousy. In June, he hit .228/.295/.329 in 88 at-bats and July has not been much better.
Renck says that Hawpe is owed $3 million the rest of the way, followed by the buyout. Someone so limited on defense and who has been in a deep slump for over a month has quite a difficult trade market. It's likely he'll be the prize that a jilted loser of the Adam Dunn sweepstakes scoops up.
-- Evan Brunell

For more baseball news, rumors and analysis, follow @cbssportsmlb on Twitter.