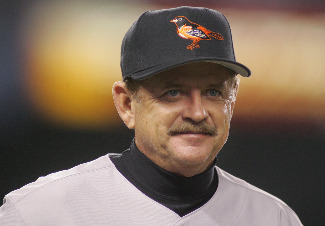 There's at least one person who thinks Baltimore erred in hiring Buck Showalter -- MASN broadcaster Rick Dempsey.
"I'm very, very disappointed," Dempsey told the
Baltimore Sun
about not winning out for the job of
Orioles
skipper. Dempsey has now whiffed in four managerial interviews -- previously losing out to Mike Hargrove, Sam Perlozzo and Dave Trembley.
The difference with Showalter is that Dempsey doesn't feel as if he was snubbed in the process.
"Of all of the managers I have gone up against in the interviewing process, he is probably the highest qualified of all of them, Dempsey said, perhaps ignoring Hargrove's successful run with the
Indians
that saw the team come within an out of winning the 1997 World Series. "No doubt in my mind [Showalter] can turn this around, but he still doesn't know what I know about this ballclub. But I am at least happy to lose out to someone so qualified for the job."
Dempsey isn't thrilled that an Orioles icon (himself) hasn't gotten a chance at the job, despite knowing more about the club than anyone else -- his words.
"I think it is probably the biggest mistake made here in a long time, and I'm not talking just today, I mean over the years," Dempsey said in quite the comment. "Not being given an opportunity to manage this ballclub. Every organization in baseball would like to have someone who has won, who has played in the World Series for the organization, who has learned to manage from A ball up and come back here. I think with the relationship I have had with the fans and this city, I should have been a slam-dunk years ago. Someone dropped the ball a long time ago."
Dempsey spent 12 total years with Baltimore, coming up with the
Twins
and spending four years in Minnesota. He then went to the
Yankees
in 1973 and was dealt to Baltimore in 1976 where he established himself as a full-time player. He left after 1986 and continued his career as a journeyman, ending it as a 42-year-old back in Baltimore for nine at-bats in 1992. In those 12 seasons with Baltimore over 4,105 plate appearances, he hit .239/.319/.355, mostly behind the dish -- which is where his value was. He was known as one of the best defensive catchers of his era, winning the 1979 AL pennant and the 1983 World Series -- and won the MVP award in the latter. Dempsey would tack on another ring to his resume, winning again with the
Dodgers
in 1998 as a bench player behind Mike Scioscia.
Dempsey then became a skipper, managing in the Dodgers organization before moving onto the
Mets
. He then served as first-base coach for the O's for seven seasons, moved to third base in 2005 and split 2006 between the bullpen and first base. The 60-year-old then joined MASN in 2007.
Despite the whiffs, Dempsey isn't ruling out another chase for the managerial job even though he's getting a bit long in the tooth. And how does he feel about having missed out four times so far?
"Well, it's not the first time I have gone 0-for-4," he joked.
-- Evan Brunell
For more baseball news, rumors and analysis, follow @cbssportsmlb on Twitter.