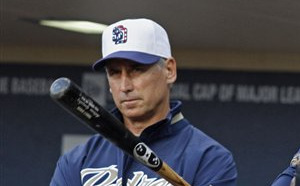 The San Diego
Padres
have one of the worst offenses in the game, but it may be pitching they seek moving closer to the deadline.
The Padres placed
Mat Latos
on the 15-day disabled list and are angling to reduce his second-half output to protect against the possibility of injury. Meanwhile, the Padres have to deal without the services of
Mike Adams
, one of their top relievers (although who isn't?) who landed on the disabled list as well.
Suddenly, the team's best quality -- pitching -- has taken a hit. That might impact what San Diego chases at the deadline but even upgrading the starting rotation is a tall task given the Padres' need to keep most of their payroll tied up in young, cost-controllable entities.
If San Diego is expected to send away multiple young pieces, it'll have to get back someone who will be with the team for more than one year, as Tim Sullivan of the
San Diego Union-Tribune
says
.
One such person may be available and would bring a thunderous stick to the middle of the Friars' order. No, he's not a pitcher, but he is
Corey Hart
. And when Hart was participating in the Home Run Derby, manager Bud Black didn't pass up an opportunity to bring up a possible transfer to San Diego.
"I did mention, 'Hey, a lot of those balls would have gone out of Petco,' " Black (pictured) told Sullivan, "I did say that to gauge his response. And then he kept looking at the TV and said, 'Yeah, they would have.' I gauged his reaction to see if he would say, 'Yeah, I know man, let's go.' I didn't get that.
"I was making sure that he knows we're watching."
General manager Jed Hoyer does believe that a move might have to be made at the trade deadline -- not just to keep the team in contention, but show the players that the organization has their back.
"There's certainly something psychological around the deadline," Hoyer said. "Teams are looking for that kick, that jump-start."
Count the Padres among those teams.
-- Evan Brunell
For more baseball news, rumors and analysis, follow @cbssportsmlb on Twitter.