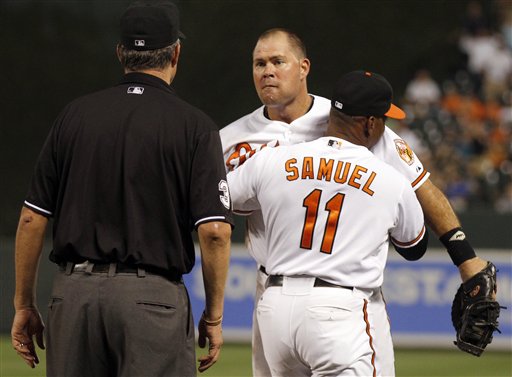 The
Orioles
'
Ty Wigginton
will appeal his three-game suspension and $2,500 for his outburst against umpire Gary Darling on Thursday,
the Baltimore Sun reports
.
Wigginton is a popular trade target at the moment and his appeal could hurt his trade value -- or at least the immediacy of a trade. Wigginton is in the lineup for the Orioles tonight against the
Twins
.
It seems inevitable Wigginton will be moved by next week's trade deadline, and the best-case scenario for the Orioles is to have Wigginton's suspension behind him before the deadline.
For his part, Wigginton told the Sun he was surprised by the suspension, even though he did make contact, it was in the classic Oriole way with an Earl Weaver-like belly bump.
"I've never been suspended and it's only my second ejection that I can remember," Wigginton said. "The other one I just got a little fine and it was over with. This is the first time there's been anything else. We'll figure out how it works."
Wigginton said he didn't think he bumped Darling, but it appeared pretty clear on replays that he did.
Baltimore manager Juan Samuel is also expected to be fined, but not suspended.
-- C. Trent Rosecrans

For more baseball news, rumors and analysis, follow @cbssportsmlb on Twitter.