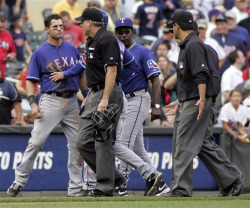 For as much crap as umpires get, it's only appropriate to point out when they get it right.
The ending in Minnesota may have been strange, but third base umpire Alfonso Marquez got the call right, as the
Rangers
'
Michael Young
was called out after making contact with third base coach Dave Anderson.
Marquez pointed at Anderson and made the interference call, ending the game. The contact was unintentional and almost inconsequential, but by the rule book, Young was to be ruled out, and Marquez saw the play correctly and called the play correctly.
Texas entered the ninth down 6-2, had scored two runs and had bases loaded for
Vladimir Guerrero
. Guerroro grounded the ball up the middle and second baseman
Orlando Hudson
fielded it. When Hudson got the ball, Young threw on the brakes and it appeared his right hand made contact with Anderson's right hand.
Ron Washington argued the call, but to no avail.
UPDATE:
Jeff Wilson of the
Fort Worth Star-Tribune has reaction
from the Rangers' clubhouse. Unsurprisingly, they didn't agree with the call.
First, here's what crew chief Tim Tschida said: "The ruling on the play is that a base coach either touching, physically assisting in any way, with the baserunner is not allowed and the runner is called out," said Tschida, who said that the Rangers argued that any contact was accidental. "If it's touching him, they can't make contact. In 30 years of doing this, it's the second time I've ever seen it.''

From Washington:

"[He said] that David reached out and touched him. All you have to do is go look at the replay. It never happened. He [Marquez] said [Anderson] tried to stop him."
"The thing is this: Too many calls are being made that are costing ballgames in 2010. You certainly shouldn't have a game end on something like that, especially when you're out there for the hours you're out there and played as hard as we played to get back in the ballgame and have that happen.
"When you look at the replay, it's obvious that he never touched him. Maybe he [Marquez] had a plane to catch."
From Young:

"Bad call. It was a bad call by a good umpire. It's a shame the game had to end like that. We would all have loved to see Cruzie have a shot at it with the bases loaded. It's an absolute shame the game had to like that."
"I didn't touch Dave. I don't think I was anywhere even close to Dave. He said I touched Dave. I disagreed about as ... I couldn't disagree more. He kept saying that's what he had, that's what he saw."
From Anderson:
"I don't think I touched him. I think Michael and I would have felt something if we had touched each other. I haven't looked at a replay, but I didn't feel anything and I don't think Michael felt anything. The disappointing part is that Michael would have been safe getting back to third base if we'd had the opportunity."
"I was telling him to stop (holding his left hand over his head and pointing to third with his right). It was a stop from the get-go."
"You can not touch him. You can't touch him. At some point in baseball, you see that play happen a few times. It's the first time I've been involved in it. I understand the rules in that aspect. You can't even touch him, let alone grab him or hold him up."
Honestly, I've seen the replay many times now -- and I think he touched him. But I can see where others could point to a place and say it's inconclusive.

It's one of those cases that even if there were replay in baseball, I'm not sure this one would be overturned. It would be one of those NFL calls where they say there isn't
"incontrovertible visual evidence" to overturn a call.
No matter if you think the umpire is right or wrong here, I'm not sure you can say video would resolve the matter. Rangers fans will likely say there was no contact and
Twins
fans will say the opposite. In the end, the call on the field stands.
--
C. Trent Rosecrans

For more baseball news, rumors and analysis, follow @cbssportsmlb on Twitter or subscribe to the RSS feed .