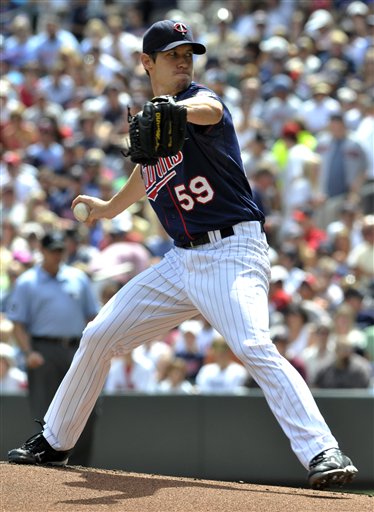 Twins
starter
Kevin Slowey
has held the Twins hitless through six innings.
The Twins lead 1-0 on a
Jason Kubel
RBI double in the third.
Slowey has walked two and struck out five. The A's have also gained a baserunner on an error by Twins shortstop
Alexi Casilla
.
The A's didn't manage a hit in the last six innings of yesterday's 2-0 loss to the Twins'
Brian Duensing
.
UPDATE:
Slowey got a double-play with two runners on to end the seventh with no hits allowed.
It'll be interesting to see if he comes out for the eighth. He's thrown 106 pitches and missed his last start with soreness in his right elbow. The Twins had
Jon Rauch
warming up after Slowey walked the first hitter of the seventh inning,
Jack Cust
. Manager Ron Gardenhire then came to the mound after Slowey hit
Mark Ellis
with one out.
UPDATE:
Twins players were not only talking to Slowey in the bottom of the seventh, they were also hugging him. That means he's likely done and if there's a no-hitter, it'll be a combined no-hitter.
The last combined no-hitter was June 11, 2003, when the
Astros
'
Roy Oswalt
left the game with an injury after one pitch in the second inning. Oswalt was followed by Peter Munro (2 innings), Kirk Saarloos (1 1/3 innings),
Brad Lidge
(2 innings),
Octavio Dotel
(1 inning) and
Billy Wagner
(1 innings). That marked the most pitchers used in a combined no-hitter.
UPDATE:
The Twins have a little breathing room, as
Jim Thome
launched the 580th home run of his career to give Minnesota a 4-0 lead going into the eighth inning.
UPDATE:
Rauch is in for Slowey and the fans boo.
Rauch strikes out Chris Carter on three pitches for the first out.
UPDATE:
Cliff Pennington
doubles to break up the no-hitter with one out in the eighth.
Coco Crisp
followed that with a double to make it 4-1. So the one-hitter's gone.
UPDATE:
Slowey said he was disappointed he was pulled from the game, but appreciated the way his manager and pitching coach handled the situation.
"With Rod Gardenhire and Rick Peterson, they care more about the individual than accomplishments," Slowey said.
-- C. Trent Rosecrans
For more baseball news, rumors and analysis, follow @cbssportsmlb on Twitter.