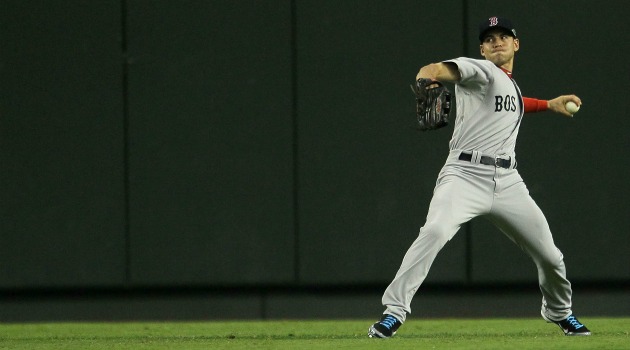 By Evan Brunell

Earlier on Thursday,
Red Sox
general manager Theo Epstein admitted the club has tried to lock up center fielder
Jacoby Ellsbury
to a long-term deal, only to come up short.
"It's not a secret we sat down and tried in the past to lock Jacoby up, and I hope we'll sit down in the future and try to do it once more at the appropriate time," Epstein told the
Dennis & Callahan Show on WEEI
.
Ellsbury missed all but 18 games last season. He was called out by players, media and fans alike for a perceived inability to push through injury and stay on the field. This year, finally healthy, he's seen a remarkable power spike and has played in all but one game, contributing a .316/.375/.509 mark in 431 plate appearances with 15 home runs. This after totaling 20 in the four previous seasons, racking up 1,510 at-bats. With 28 stolen bases, he's been a threat on the basepaths and appears a lock for a 20/20 season, and 30/30 can't be ruled out in future years.
The 27-year-old says he isn't doing anything different and was focused first and foremost in the offseason on coming back from injury. Manager Terry Francona told the
Boston Globe
it all has to do with discipline.
"It's knowing the strike zone and knowing the league," Francona said. "He's probably turning into a better hitter. Confident."
Ellsbury is earning $2.4 million in 2011, a figure that will skyrocket in arbitration given the season he has had and the fact that he will be in his second year of arbitration for 2012. Ellsbury has been referred to as a "core member of the organization," and Epstein says he wants him to stay with the club. That will be difficult with new agent Scott Boras, who replaced Joe Urbon last season as Ellsbury's agent.
Boras prefers his clients to get to free agency as fast as possible. He often recommends to players -- and they tend to follow his advice -- that they not sign extensions with the original club, and doubly so if the extension is in any way tilting to the team's favor. (
Carlos Gonzalez
is an exception, overruling Boras to ink a seven-year, $80 million deal with the
Rockies
in the offseason.)
"We have certain organizational standards that have to be met, but we worked hard and were able to meet those standards with the [Dustin] Pedroias, with the [Kevin] Youkilis' and the [Jon] Lesters of the world, so we would love to one day announce that Jacoby is going to stick around this organization for a really long time. This is where he should be."
Epstein is referring to getting a club option attached onto any long-term deal agreed to with young players who have yet to hit free agency. Pedroia, in the third year of a six-year, $40.5 million deal, has a club option for 2015, and Youkilis has one for 2013. Lester, meanwhile, has one for 2014. David Ortiz's and Josh Beckett's previous deals also came with club options.
While Epstein may still be able to corral Ellsbury into an extension before he hits the market, it's doubtful there will be any type of hometown discount. Boston is one of the few teams that can afford to ink Ellsbury, discount or no discount. But if the center fielder does hit free agency, he would be in hot demand. This is one player Epstein may not be able to sign, at least not without Ellsbury testing free agency.
For more baseball news, rumors and analysis, follow @cbssportsmlb on Twitter or subscribe to the RSS feed.