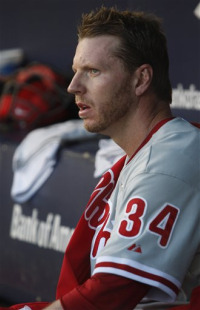 Ever since his trade to Philadelphia last winter,
Blue Jays
fans have dreamed of seeing
Roy Halladay
again, facing the Jays as the visiting pitcher.
Fans in Toronto will get to see that Friday night -- on television.
The weekend series originally slated for Rogers Centre was moved to Philadelphia because of security concerns with the G20 Summit taking place in Toronto. That deprived the Blue Jays of a chance to honor Halladay, who played 15 years in Toronto and was the team's most popular player.
Halladay, who pitches Friday night, doesn't seem too broken up about it. He's never been the sentimental type. He's the completely focused, ultra-competitive, all-business type. As such, he thinks the change of venue might be a good thing.
"In certain respects, it's going to be a little easier being [in Philadelphia]," Halladay, who already faced the Jays in spring training,
told MLB.com.
"The media stuff and being in the city hopefully is a little easier here. From that respect, I think hopefully it's probably beneficial."
The Blue Jays will be the home team this weekend and bat last at Citizens Bank Park. That's unusual, but not unheard of, in baseball history. What is unprecedented is that it's an interleague game, which means the designated hitter will be used in a National League park.
Some have suggested, as a way to spice up the somewhat stale practice of interleague play, having teams play by the rules of the visiting team rather than the home team. That would give fans in NL cities a chance to see games played with the DH and AL fans a chance to see their pitchers hit.
Phillies
fans will get to test drive that concept this weekend.
-- David Andriesen

For more baseball news, rumors and analysis, follow @cbssportsmlb on Twitter.