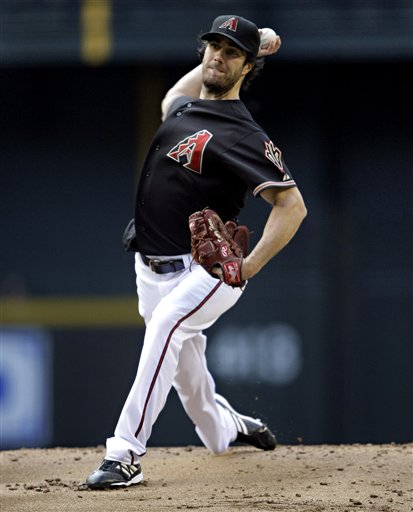 Even when the
Diamondbacks
return from their roadtrip on Monday, players may not want to lose track of their bags --
Conor Jackson
may have been the trendsetter in an exodus from the desert.
Arizona general manager Josh Byrnes
told Nick Piecoro of the Arizona Republic
that more moves are likely on the way.
"We aren't where we need to be in the standings and as far as sort of the things we'd like to do to adjust the roster, there's also payroll considerations as we try to sort of get ready for next year," Byrnes said.
One of the team's most valuable trade pieces is starter
Dan Haren
. Haren tells Piecoro he likes the team's talent, but not the way they've played. Arizona is already 12 games behind the
Padres
in the National League West and 13 games below .500, so this team is contending anytime soon. Haren has two years left on his four-year, $44.75 million contract. His salary bumps up from $8.25 million this season to $12.75 million in both of the next two seasons, with a club option for 2013.
The Diamondbacks have plenty of young talent, and Haren said he'd like to stick around.
"That said, at this point in my career, I probably wouldn't want to be part of something like that," Haren told the newspaper. "Then again, I haven't really won anything since 2006 and I also want to win."
First baseman
Adam LaRoche
could be traded, but his 2011 mutual option ($1.5 million buyout) increases from $7.5 million to $9.5 million if traded, so he'd likely be a one-year rental.
Other trade options include closer
Chad Qualls
and second baseman
Kelly Johnson
.
-- C. Trent Rosecrans
For more baseball news, rumors and analysis, follow @cbssportsmlb on Twitter.