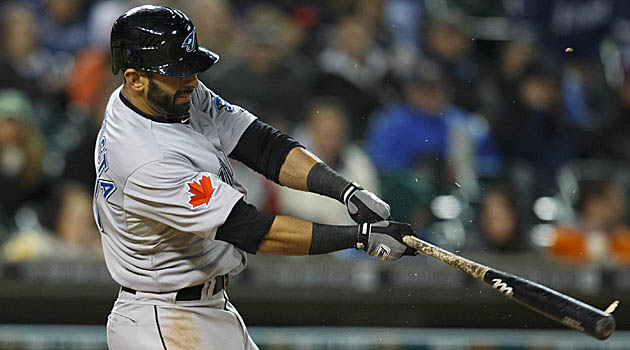 By Matt Snyder
Tuesday, Major League Baseball unveiled the first update on the All-Star balloting for the National League, so Wednesday we found out the American League update. Needless to say, non-Yankees fans won't be happy, but we'll get to that in a second. The big story is that the fans nailed the top overall vote-getter (that goes for both leagues).
Jose Bautista
of the
Blue Jays
leads the majors in runs, home runs, on-base percentage, slugging percentage, OPS, OPS-plus and total bases. You can add top vote-getter to the list for now, because he's gathered 1,261,659 votes. If this holds, he'd become the first Blue Jays player ever to receive the most votes and the first to start the game since Carlos Delgado in 2003.
As things stand now, here are the would-be AL starters:
Russell Martin
,
Mark Teixeira
,
Robinson Cano
,
Derek Jeter
,
Alex Rodriguez
,
Curtis Granderson
-- yes, those are actually the leaders in votes; I didn't accidentally start listing the
Yankees
' starters -- Jose Bautista,
Josh Hamilton
and
Michael Young
(DH).
So, yeah. Six Yankees starters if this was the final version. Here are some observations:
-
Asdrubal Cabrera
trails Jeter by about 260,000 votes at short. I guess I'm not shocked for several reasons. First of all, the voting began pretty early in the season and Cabrera was a relative unknown when it started. Secondly, you have Jeter and the whole chase for 3,000 hits thing going on. Third, it's the Yankees. If this is a lifetime achievement thing, OK, but if we're looking at just 2011, it's egregious. Cabrera's been the big offensive force for the most surprising team in baseball -- one that has the best record in the AL.
- Teixeira's having a big power year and him starting the game wouldn't be completely undeserved, but I'd rather go with
Adrian Gonzalez
or
Miguel Cabrera
there. If you have a problem with Cabrera's off-field issues in the spring, well, vote for Gonzalez or Tex.
- Third could shape up to be a real good battle between A-Rod,
Adrian Beltre
and
Kevin Youkilis
-- who were all probably helped by the injury to
Evan Longoria
.
- Martin is the correct selection behind the plate. Oh, and
Joe Mauer
's second in voting (tsk, tsk).
- Granderson certainly deserves to start and Cano probably does as well. So Yankees haters need to lay off these guys.
- The outfield voting isn't awesome, that's for sure. Hamilton has been hurt most of the season and sits third.
Matt Joyce
isn't even in the top 15, nor are
Carlos Quentin
,
Adam Jones
,
Michael Brantley
or
Alex Gordon
. But
Ichiro Suzuki
,
Nelson Cruz
and
Carl Crawford
are all in contention.
View the full voting results by clicking here.
There are obviously a lot more issues, but it's the initial ballot release and many of the votes were cast when it was released without having a good grasp of how the 2011 season would turn out. Fortunately, there's still time to support your guys and rectify any problems you might have. Voting doesn't end until the end of June.
Click here to cast an online ballot.
For more baseball news, rumors and analysis, follow @cbssportsmlb on Twitter or subscribe to the RSS feed.