The
Rays
aren't alone in that they are in the middle of a busy offseason and have many directions to go, but they may be the most compelling team to follow all winter.
That's because the club seems certain to lose star Carl Crawford and slugger Carlos Pena on offense, while having to rebuild an entire bullpen and slash payroll to $60 million or less from 2010's franchise-high $72.8 million.
As a result, it is widely considered the Rays will deal some costly veterans where the team has solutions behind them. That includes
Jason Bartlett
, subject of a
MLB Facts and Rumors trade profile
.
Marc Topkin of the
St. Petersburg Times
expects Bartlett to exit stage left to make way for
Reid Brignac
and clear up roughly $5 million in salary. There's no shortage of candidates who could use Bartlett, with middle infield depth thin leaguewide. The
Cardinals
,
Giants
and
Orioles
have been most closely linked to the ex-Twin.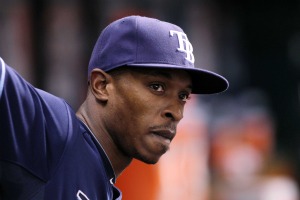 Topkin also discusses
B.J. Upton
(pictured, left), coming off a disappointing season and who is headed to arbitration for the second time. Upton is slated to make about $4 million or more, and that's a lot to give someone coming off back-to-back poor seasons. While his .237/.322/.424 line in 610 plate appearances in 2010 was a major improvement over 2009's .241/.313/.373, it's still a major letdown.
However, Upton is still the same guy who slashed .300/.386/.508 with 24 home runs in 2007, then went bananas in the ALCS against the
Red Sox
in 2008. His 2011 season will be played at just age 26, so there's plenty of time left for Upton to turn his career around, and he's still capable of stealing a ton of bases, as his three straight seasons of over 40 steals indicate.
Given Upton isn't slated to be a free agent until after the 2012 season, it may not be prudent for Tampa to deal the youngster. After all, the club is still in desperate need of offensive playmakers, and Upton can help keep Tampa in contention. In addition, if Upton bounces back, his trade value skyrockets. Trading him now would mean selling low, and there's just no reason for the Rays to take that risk.
Topkin also points out that Upton was only one of two players in 2010 to have at least 60 extra-base hits (38 doubles, four triples, 18 home runs). The other person was none other than Carl Crawford, so losing two players with that distinction may be too much for Tampa to handle.
Upton and Crawford also impacted the game in a big way on defense, so even with Upton's struggles at the plate, he would create a major void in the lineup where there is already enough gaping holes.
Lastly, Topkin tackles the future of the starting pitching. With a full rotation and
Jeremy Hellickson
banging on the door, the possibility exists that Tampa could trade
Matt Garza
or
James Shields
, the two making the most money on the staff.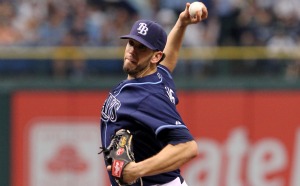 Alas, Topkin is concerned about the depth of the rotation. While the club is deep in pitching prospects, Topkin says the top starting prospects are still a ways away, so if a starter was to get hurt and one of Shields (pictured, right) or Garza was traded, Tampa would be scrambling for depth.
However, he seems to have forgotten about
Andy Sonnanstine
, a starter who worked out of the bullpen in 2010. He could easily transition back to a starting role if needed. Secondly, Jacob McGee is also hanging around, and he's certainly ready for the majors after appearing down the stretch drive as a reliever. In addition,
Baseball America
's
top prospect list
has Matt Moore and
Alex Torres
on the list. While asking them to be ready for 2011 is a stretch, they could make their big-league debut in September. If they're that close, they could step in and fill the breach if needed.
Depth is not an issue.
What may be an issue is the play of Shields, who finished with a 5.18 ERA in 203 1/3 innings. While his xFIP was 3.72, clubs may try to buy low on Shields given the ERA. That may not be tenable for the Rays, but if the alternative is trading Garza, the team may opt to bite the bullet on Shields.
With the winter meetings just a week away, we may soon know what direction Tampa intends to go. Will that include shipping away Bartlett, Upton, Shields or Garza? Stay tuned.
-- Evan Brunell


For more baseball news, rumors and analysis, follow @cbssportsmlb on Twitter or subscribe to the RSS feed.