By C. Trent Rosecrans
Did Rangers starter Colby Lewis make the play of the year last night?
Here's the GIF (from Jeff Sullivan) of the play where Lewis scoops the ball to Michael Young to get the Braves' Jason Heyward: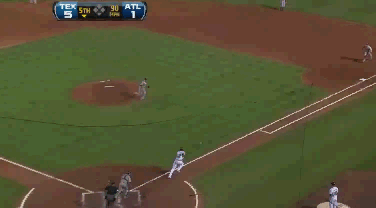 We've all seen second basemen make the scoop when there wasn't time to do anything else, but Lewis scooped it at least 40 feet from just inside the runner's lane that starts half-way to first base.

What usually makes a play of the year is not only degree of difficulty, but also originality. There are daily diving catches and weekly home-run robbing catches, that's what makes plays like this unique.
Here's the official MLB.com video, which doesn't allow for embedding until a few days after the play, that shows multiple angles of the play.
Add to the fact that Lewis struck out 10 Braves in 6 2/3 to earn the win, it was a heck of a day for the right-hander.

Let's look at some of the other contenders, shall we?

I'd have to go with Reds second baseman Brandon Phillips' between-the-legs barehanded-flip to get the speedy Jason Bourgeois of the Astros. Here's that play:


But I don't know if any play has the degree of difficulty of Indians shortstop's Asdrubal Cabrera's double play on May 20 against the White Sox, changing directions to field the ball after it tips off the pitcher's glove and then go behind the back to start the double play.


What play am I forgetting? What's your play of the year so far?

For more baseball news, rumors and analysis, follow @cbssportsmlb on Twitter or subscribe to the RSS feed.