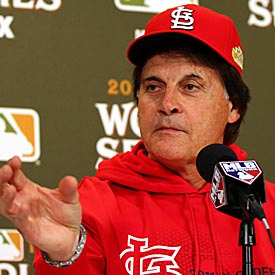 By Matt Snyder
ST. LOUIS --
Cardinals
manager Tony La Russa confirmed that
Albert Pujols
made the hit-and-run call in Game 5 Tuesday. Remember, this was the one where
Mike Napoli
threw Craig out by a country mile at second base, clearing the way for another intentional walk to Albert Pujols. At the time, the game was tied, 2-2.
Monday night, La Russa would only say the following about the mishap:
"It was a mix-up, and on our team nobody gets thrown under the bus. So it was a mix-up."
Some players in the locker room had told reporters that Pujols was the one who made the call, but La Russa wouldn't do so.
That fact had obviously been weighing heavily on La Russa, because upon entrance to the interview room in Busch Stadium Tuesday afternoon, he said he wanted to talk first (usually the manager sits down and waits for questions). And he had plenty to say, speaking for several minutes about Albert Pujols and the seventh-inning caught stealing play.
Evidently Pujols has the privilege to call hit-and-run on his own. Obviously La Russa wouldn't reveal the sign Pujols uses, but he used it Monday night in the seventh inning with Craig on first base and
Alexi Ogando
on the hill.
"I think it's important to be accurate and then everybody has to be fair as they want to be," La Russa said. "If you look at the history of baseball or sports, I don't care what your sport is, when a player shows that they really have a feel for the game, coaches give them a lot of well-earned ability to influence what goes on. So Albert has that ability. (He) picked a 1-0 pitch, Ogando threw it out of the strike zone, and it didn't work. But it has nothing to do with Albert having special privileges or not being as great as all of us have seen him be for years, and a lot of us that know him on a daily basis say he is."
As La Russa mentioned, Ogando threw the pitch well out of the strike zone and Pujols neglected to swing. Remember one of the fundamental parts of a hit-and-run is that the batter is required to swing.
"Well, they teach you to swing if you can get -- and he can reach a lot of pitches, but that one (would have) just wasted a strike," La Russa said in defense of his star. "There's no way he could have reached it, although you try to protect the runner the best you can."
Craig was then thrown out and Pujols was then given a free pass for the third time of the game. It's surprising someone with the bat control of Pujols wouldn't just attempt to foul the pitch off -- especially since he was sure to be intentionally walked once first base was open. Basically, it was pretty obvious Pujols just didn't think the entire situation through. If he had, he would have realized it was a bad idea.
As Craig entered the dugout, La Russa could be seen questioning Craig. The manager was simply figuring out who called the hit-and-run.
"I thought, holy smokes, sometimes you have a regular sign, sometimes you have a flash sign, and I thought, crap, did I put it on?" La Russa said. "Is that the normal hit-and-run? What was that? And he told me. So then I said, 'okay.' I was just glad I didn't put it on."
Now, it might appear La Russa contradicted what he said Monday night -- regarding not throwing people under the bus -- in telling the media that Pujols made the ill-advised call. We didn't get an answer on this front, but the best guess is La Russa discussed with Pujols that he was going to come clean while also defending Pujols. It wouldn't make any sense to alienate your star player before Game 6 of the World Series -- especially when said star is about to be a free agent.
La Russa also defended himself for allowing a star player to have the kind of leeway Pujols does during the World Series, specifically pointing to
Ian Kinsler
having a green light to steal bases -- which directly led to the
Rangers
winning Game 2.
So there you have it. Pujols made an ill-advised hit-and-run call while the bullpen phone messed up La Russa's plan for how to attack Mike Napoli. If nothing else, the combination of the bullpen phone snafu and this botched hit-and-run attempt have shown the Cardinals certainly haven't lost a step in the drama department.
For more baseball news, rumors and analysis, follow @EyeOnBaseball on Twitter or subscribe to the RSS feed.