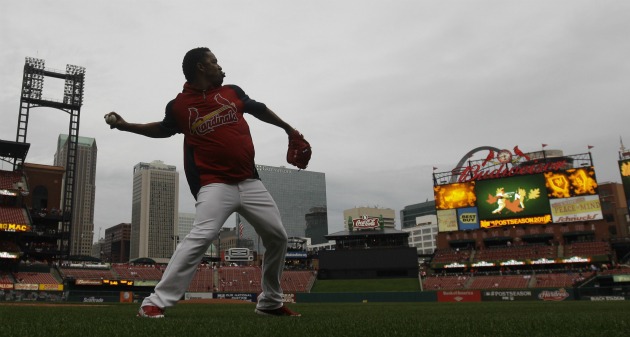 By C. Trent Rosecrans
ST. LOUIS -- Brewers starter Randy Wolf isn't starting tonight and he say he wasn't worried about getting Game 3 of the NLCS in ahead of rain here, but he did worry enough to check out the forecast.
"According to my AccuWeather I have on my iPhone, we are not supposed to get any rain, so I think we are going to be OK," Wolf said. "It's usually pretty right, too."
The Weather Channel app on my iPhone said there was supposed to be rain all afternoon and possible through the night, but I haven't felt a drop yet, so maybe I should change apps -- even though the skies have been gray all day and it's looked like it could rain at any minute.
"Cautiously optimistic is kind of the way I would explain it," Cardinals manager Tony La Russa said before the game. "They think -- the latest check was 3 p.m. They are going to check again at 5 p.m. They are optimistic that we can play. But they are also, by the way, they were very clear, the Commissioner does not want a lot of delays, interruptions and (the like.)"
Ron Roenicke said he'd talked to Joe Garagiola Jr. of the commissioner's office and they don't want anything to mess with the starters -- especially with the matchup of the team's two best pitchers.
"I think probably if we get to about the 6:30 mark is really an important time when -- if we are going to start this thing on time and what we are going to do. Because you get farther than that, and we run into a situation where we ran into this year, where both starters were warmed up and walking off the field and we had an hour-and-a-half delay," Roenicke said. "Something I'm sure the Yankee-Detroit game had something to do with that and what happened. So those are tough calls, because there's some times when -- right now it looks like it's drizzle, but something can happen later on where it builds up more."
With rain being the only thing to mar this postseason so far, it's obvious that baseball wouldn't want another game changed by the weather. Both the Detroit-New York ALDS and the ALCS have had delays and rainouts. The National League has been lucky so far -- helped by the fact both Milwaukee and Arizona have retractable domes. But of course, today's the first game the Brewers have had without a dome in the postseason, so there's rain in order.
Maybe it's just following Wolf.
"You know, my first years in Philadelphia, I was nicknamed the Rain Man, because it seemed like every time I pitched, it rained," Wolf said. "But I learned, you just get ready for the game and you don't worry about what the weather is, because that's another external thing you can't control. But I think (Yovani Gallardo), today, he's going to be ready to pitch; he always is. I don't think that will be much of a concern."
For more baseball news, rumors and analysis, follow @cbssportsmlb on Twitter or subscribe to the RSS feed.