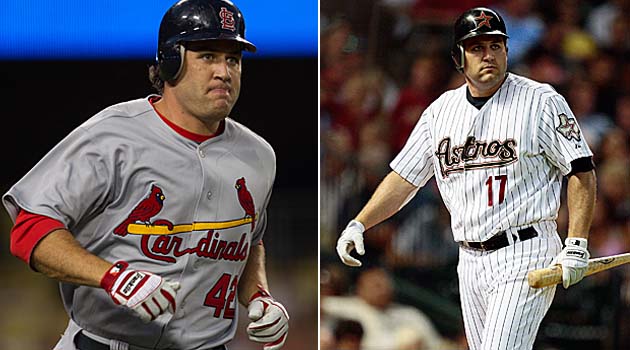 By Matt Snyder
Lance Berkman
played in parts of 12 seasons for the Houston
Astros
. When he joined, he was the new member of the "Killer B's," along with Jeff Bagwell and Craig Biggio. He was a five-time All-Star and finished in the top five of MVP voting four times. The Astros' career leaderboard is peppered with Berkman's name. He's first in OBP, second in slugging, fourth in batting average and second in OPS. Only Biggio, Bagwell and Jose Cruz played more games for the club. He ranks third in runs, fifth in hits, third in doubles, second in home runs and third in RBI.
Or, put more succinctly: Lance Berkman is one of the greatest Houston Astros of all time.
But things aren't exactly peachy now. Berkman was having the worst season of his career in 2010 -- still a 122 OPS-plus, by the way -- before being dealt to the
Yankees
. Now, Berkman is playing for Houston rival St. Louis.
As a Cardinal, he's back to his old mashing ways. He's Big Puma again, hitting .377 with a 1.173 OPS, six home runs, 15 RBI and 19 runs through 19 games. He leads the NL with a .725 slugging percentage.
The big start drew the ire of a Houston-area sportscaster, who suggested Berkman didn't work hard his "last few years" for the Astros and now he was back in shape. (
Eye on Baseball
)
Tuesday night, the
Cardinals
visit the Astros at Minute Maid Park for the start of a three-game series. Needless to say, Berkman isn't exactly looking forward to it.
"I'm not crazy about going back in there. I felt like I've kind of turned the page and part of me just wants to be done with it. But I know I'm going to have to go back in there and face a lot of questions."
"I guess it's inevitable. When I signed here, I knew we were going to go in there three times, so I'm ready to go and to get all the hoopla, if there is going to be any, out of the way." (
stltoday.com
)
For whatever it's worth, Berkman did note he's in better shape, though he pointed out it was because his knees are finally healthy again.
It's certainly going to be interesting to see what kind of reception he receives and how he plays.
BASEBALL TODAY:
Will
Andre Ethier
extend his hitting streak tonight? Will
Roy Oswalt
and
Aaron Harang
remain unbeaten? C. Trent Rosecrans joins Lauren Shehadi to answer those questions and more.
FEAST OR FAMINE GUYS:
When you think of guys who either hit home runs or strikeout -- the Rob Deer All-Stars, if you will -- the names
Mark Reynolds
and
Adam Dunn
are among those who come to mind.
Carlos Pena
, too, though he has been only famine thus far in 2011. Who are the ultimate feast or famine guys in the young season this time around?
Beyond the Box Score
took a look at the guys who are striking out or collecting extra base hits at the highest percentage. At the top?
Jorge Posada
,
Kevin Youkilis
and then ... Reynolds.
Rangers ROTATION UPDATE:
The Texas Rangers have gotten pretty good starting pitching this season, other than from
Colby Lewis
-- who certainly isn't going to be removed from the rotation. Thus, they're pretty close to having an embarrassment of riches.
Brandon Webb
threw two hitless innings at an extended spring training game Monday.
Scott Feldman
is slated to throw three innings in extended spring training Thursday, while
Tommy Hunter
is going to throw in an extended spring game Saturday. Collectively, the Rangers' starters have a 3.56 ERA, 1.19 WHIP and 103 strikeouts to 43 walks. The one expected to lose his rotation spot when someone comes back from injury is
Alexi Ogando
-- the guy who is 3-0 with a 2.13 ERA and astounding 0.79 WHIP. So are the Rangers going to remove him? Or
Matt Harrison
(3-1, 1.88, 0.94)? Or
Derek Holland
,
C.J. Wilson
or Lewis? It's quite a log-jam, once Webb, Hunter and Feldman return, particularly if Harrison and Ogando continue to throw the ball well. (
Star-Telegram
)
VOTE OF CONFIDENCE FOR OZZIE:
On the heels of a 1-10 stretch, the
White Sox
got a close win Monday night in Yankee Stadium. It had to partially lift a big weight off their collective chests. Still, Guillen had recently put a target squarely on his own back, by saying if anyone should get canned, it should be himself. It was a noble move by Guillen, playing shield for his hitting and pitching coaches. Regardless, general manager Kenny Williams has now said it wasn't necessary. "The coaching staff is not throwing the baseball and not hitting the baseball," Williams said. "They're doing what they've always done." (
Chicago Sun-Times
)
Mariners FUTILITY:
The always-solid
Geoff Baker of the Seattle Times
discusses how bad the Mariners' offense is, and why it's going to get even worse. In fact, he argues there's a legitimate shot they'll score even fewer than last season's record-low 513 runs.
JAPANESE CONNECTION:
Hideki Matsui
and
Ichiro Suzuki
go back a long way. In fact, they first met in high school when Matsui committed a breach in bathing etiquette -- and Ichiro questioned him about it a decade later. Yes, seriously. There's a lot more in there about the relationship between the two, and it's definitely worth a read. (
ESPN's West Coast Bias
)
LA RUSSA IN OAKLAND:
No, not Tony. His daughter, Bianca, has made the Raiders' cheerleading squad for the upcoming NFL season. (
Shutdown Corner
)
MANNY IN HIGH SCHOOL:
Manny Ramirez hit .650 with 14 home runs in 22 games his senior year in high school. Oh, and check out this description of him in high school: "He was the shy, happy-go-lucky boy with the perfect swing who everyone knew was going to the major leagues. The boy who loved to hit more than anything else. The boy who worked harder than anyone else. The baby-faced boy who never drank anything stronger than the nonalcoholic Puerto Rican eggnog from the corner bodega he chugged to bulk up." The writer begs the question, which is the real Manny? An interesting quandry. (
New York Times
)
HEAT MAPS:
NESN is using heat maps for
Red Sox
's broadcasts. I like the general idea, but there are a million possible variations. What would be best? Personally I'd want OPS by pitch location. (
Baseball Analytics
)
ATTENDANCE WOES:
We're going to hear about this all season if things don't significantly pick up during the summer when the weather gets better.
Yahoo! columnist Jeff Passan
writes about how bad it looks for several teams and the league as a whole. A lot of numbers look really bad, but it's important to note the drop across the entire league through April 24 was only 1.77 percent. You could easily use the economy and some pretty awful weather to account for that. I'll stick with that for now. Let's revisit the topic in late July. Now, if you're down more than 20 percent (like the
Rays
and Mariners are), that's a problem. A big one.
A VISITOR'S TOUR OF WRIGLEY:
page/COL">Rockies
%3A+Blog%29" target="_blank">Troy Renck of the
Denver Post
took video to give fans a tour of the visitor's dugout at the historic Wrigley Field. Obviously I'd much rather experience things of this nature in person, but for now this'll do.
For more baseball news, rumors and analysis, follow @cbssportsmlb on Twitter or subscribe to the RSS feed.