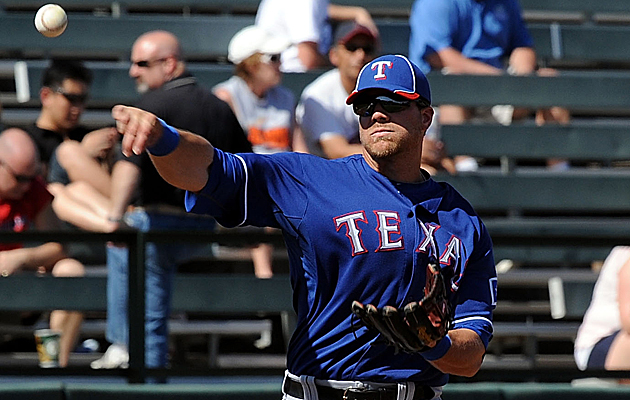 By Matt Snyder
Chris Davis
may finally be ready.
In a straw poll of
Rangers
management, the
Star-Telegram
found Davis was easily the most impressive player thus far in camp. He's flashing power, hitting for a high average and playing solid defense. This follows a good season of winter ball, so it could be a harbinger of things to come in Texas.
We know the power he possesses. He hit 17 home runs in 295 at-bats in 2008 and then 21 in 391 in 2009. Of course, the problem is that his OBP deteriorated to a dreadful .284 in 2009 and his contact rate was embarrassing. He struck out 238 times in those two seasons -- which is a strikeout once in less than every three at-bats.
Most everything got worse last season. Davis hit only one home run in 120 at-bats. He struck out 40 times. He hit .192/.279/.571, good for a 54 OPS-plus.
The funny thing is, Davis has always destroyed minor-league pitching (.939 OPS) and is still only 24.
In terms of how the current Rangers roster is constructed, however, Davis may actually be blocked. Assuming
Adrian Beltre
is healthy and
Michael Young
doesn't get traded, there really isn't a spot. You've got
Mitch Moreland
at first base, Beltre at third, Young in the backup DH/1B/3B role and
Mike Napoli
also a DH who can fill in at first.
Maybe Davis gives the Rangers further incentive to offload Young? That might even mean eating a good portion of his remaining contract, but a powerful Chris Davis makes it easier to justify. That's just speculation, but it's entirely possible.
SOME TOMMY JOHN STATS:
In an article about how the
Reds
are expecting
Edinson Volquez
to return to form this season, we're given a stat that 96 percent of the pitchers who undergo "Tommy John" surgery return to the same level of competition they were before the procedure. It makes sense. As long as the rehab and throwing programs are done properly, the newly inserted ligament should actually be stronger than the natural one was before the injury. This article notes that prior to injury, the ulnar-collateral ligament has likely been slowly deteriorated over time, so when the surgery happens, it's like a brand new ligament. There's a lot more interesting stuff in there, and it's a highly recommended click-through. (
SI.com
)

ON THE OTHER HAND:
Also in
SI.com
, Tom Verducci talked to a "leader in the field of pitching biomechanics," who said that
Nationals
phenom
Stephen Strasburg
has a problematic delivery. Specifically, the contention is that Strasburg lands his front foot too early in his pitching motion, which puts in undue amount of torque on both his elbow and shoulder. When you considering how hard he throws, that's an excessive amount of pressure on those two body parts. There is also a moment in his delivery, according to the article, where Strasburg's elbow raises higher than his hand -- which switches the order of how the kinetics of a pitching motion are supposed to happen. This, again, puts a ton of pressure on his elbow. Hey, don't shoot the messenger, Nationals fans. I'm just passing along the info.
ONLY IN THE SPRING:
Spring is a slow news time. You've got injuries and positional battles, sure, but otherwise it's mostly meaningless at-bats and killing time looking ahead to the regular season. Thus,
Chipper Jones
garnered some fan fare for bringing back and old-school look a few weeks ago when he pulled the bottoms of his pants up to knee-high. Of course, this only worked for Chipper with low-top shoes and he wasn't comfortable. So he returned to high-tops and, with those, had to bring the pants back down to ankle-length. (
Atlanta-Journal Constitution
)
ONLY IN THE SPRING, PART II:
The
Rays
had a longest drive contest. Yes, with golf clubs. The four finalists were
Johnny Damon
,
Cesar Ramos
,
Andy Sonnanstine
and
B.J. Upton
. Who ya got? Go check it out, as there is video. (
TampaBay.com
)
SAY WHAT?
Try to figure out this quote: "I don't ignore them because I've got to answer them. But I ignore them." That comes courtesy of
Cardinals
manager Tony La Russa, who is frustrated that the MLB Network questioned his team's outfield defense -- even though he apparently ignores them, or doesn't. Whatever. Any defensive metric you see says the outfield defense for the Cardinals will be pretty atrocious.
Matt Holliday
is fine in left field, though not spectacular. According to Fangraphs.com's ultimate zone rating, only two center fielders were worse than
Colby Rasmus
last year, who is certainly better suited for a corner spot. In right, they've got
Lance Berkman
, who was moved to first base in Houston due to becoming too slow for the outfield. He's 35 and hasn't been completely healthy for a full season 2008. To all this, La Russa would likely give the same response he did to MLB Network, "What do people know about our outfield defense?" (
St. Louis Post-Dispatch
)
TALKIN' BASEBALL:
Willie, Mickey and the Duke. Those words were immortalized in
Talkin' Baseball
, a song written in 1981 by Terry Cashman. With the recent passing of the Duke, Cashman looks back on writing the song. (
MLB.com
)
STILL COOL CARLOS:
While one Carlos on the
Cubs
sparred with a teammate over an error this spring,
Carlos Zambrano
has been a saint in Cubs camp. Tuesday, a defensive miscue allowed the leadoff man on base, but Zambrano never batted an eye. Of course, he won't say he's a changed man -- even though he said earlier in camp he was "cured" -- "Nah, I'm the same, bro," he told reporters. (
Chicago Sun-Times
) Really, it's not just the spring, though. Zambrano has been a different man since re-entering the rotation last August 9. He went 8-0 with 1.41 ERA and 60 strikeouts in 11 starts and hasn't had an issue with teammates or management. The guy we're seeing this spring isn't just being good because it's spring. It's a carry over. Of course, with Zambrano, things could turn at any moment.
MEETING THE CHAMP:
The
White Sox
met with Muhammad Ali and his Athletes for Hope foundation Tuesday. He was given a No. 40 jersey with the "Champ" on back, instead of Ali. (
Chicago Tribune
)
TAKE A BOTTLE, DRINK IT DOWN, PASS IT AROUND:
One of the best pastimes of baseball -- for fans, that is -- is having a frothy cold one at the ballpark.
Big League Stew
breaks down the top 10 beers available at major-league ballparks. If you prefer a simple domestic macrobrew, well, there's something for you in every stadium.
BRADLEY HEARING WEDNESDAY:
There will be a private hearing with
Milton Bradley
, his wife and the Los Angeles City Attorney's Office to attempt to resolve their differences without taking any charges to criminal court. Bradley was arrested for alleged domestic violence and threats against his wife last month. (
Seattle Times
)