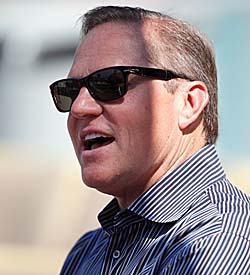 By Matt Snyder
Utility player
Willie Bloomquist
may not be returning to the
Diamondbacks
for the 2012 season, in part due to a miscommunication between the Arizona front office and Bloomquist's agent, Scott Boras, reports
Nick Piecoro of the Arizona Republic
.
Bloomquist had stepped up and logged some very important innings for the Diamondbacks this season once they had lost starting shortstop
Stephen Drew
to injury. While he's hardly a star, Bloomquist's ability to play so many different positions is helpful. He hit .266/.317/.340 for the NL West champs and is currently a free agent. There was a mutual option on his contract, and the D-Backs chose to exercise that option. Bloomquist declined the option, making him a free agent. And that's where it becomes a bit of a he-said, he-said game.
Diamondbacks general manager Kevin Towers is reportedly frustrated that they haven't heard from Bloomquist or his agent since the declination, as Arizona expressed interest in bringing Bloomquist back by exercising its end of the option.
"I don't think it's up to us to lob a call," Towers said (
AZcentral.com
). "We exercised our end. We showed we wanted the player back. By exercising the option, we're pretty much saying, 'We'd like to have the player back.' By them declining, it's like, 'We don't want to come back at what you want us at.' Then, well, what do you want?"
Fair point.
Boras claims his side did try to contact the Diamondbacks, however. From AZcentral.com:
Boras said one of his assistants, Scott Chiamparino, called Diamondbacks assistant GM Billy Ryan the same day to confirm receipt of the letter and that Ryan said the team would be back in touch during the week.
Ryan reportedly did receive the letter, but had no idea about the phone call in question. Ryan also reportedly said he talked to Chiamparino on October 28 and was told that the D-Backs had some "significant" ground to make up in order to satisfy the contract demands of Bloomquist.
Meanwhile, the Diamondbacks did re-up with backup shortstop
John McDonald
.
"We knew we needed shortstop depth and we had two in-house guys that we had a comfort level with," Ryan said. "'Johnny Mac' was proactive about it and given the uncertainty with Willie, we moved forward with that."
The signing of McDonald makes it less urgent for the D-Backs to lock up Bloomquist, and they're reportedly more focused now on bringing back second baseman
Aaron Hill
. Not surprisingly, this movement didn't exactly endear the D-Backs to Boras, who was angry enough that he managed to get in a swipe at an innocent bystander (McDonald):
"Is it our duty to be in touch with them every hour on the hour so we know nobody else signed?" Boras said (
AZcentral.com
). "When you want someone, you go get them. We're not the employer. They offer the contracts and pay the money. We don't. It sounds to me like what happened is, they got upset when Willie opted out. They got emotional and they went out and signed a guy who hit .169."
There's definitely no reason to go after McDonald's batting average, considering his value is by being a superior defensive player, but that's beside the point here. The major takeaway is that Boras' statement is a contradiction to what Towers' expectations seemed to be in his above quote. Thus, unless lots of things change in the coming weeks, Bloomquist is headed elsewhere.
For more baseball news, rumors and analysis, follow @EyeOnBaseball on Twitter or subscribe to the RSS feed.