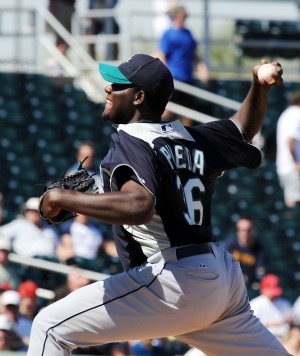 By Evan Brunell
Former Nationals GM Jim Bowden is now a host on MLB Network radio and tweeted the Mariners rotation as he sees it after discussing it with manager Eric Wedge and GM Jack Zduriencik.
Topping the rotation to no one's surprise is Felix Hernandez, the AL Cy Young Award winner this past season. Behind him are Jason Vargas and Doug Fister -- soft-tossing pitchers with some success at the major-league level, but nothing to write home about. Vargas did have a 3.78 ERA in 31 starts over 192 2/3 innings, but clearly benefited from Safeco Field -- his home ERA was 2.86, away 4.85 while his overall xFIP was 4.82.
Fister, meanwhile, had a 4.11 ERA in 28 starts and 171 innings pitched, but paired his stingy 1.7 BB/9 rate with a 4.9 K/9 mark. His xFIP was actually intriguingly close to his ERA at 4.27, but exhibited drastic first- and second-half splits. Prior to the All-Star Game, Fister had a 3.09 ERA in 13 starts that spiked to 5.09 in 15 post-break starts.
It's the two starters behind Vargas and Fister that are intriguing. The No. 4 starter appears to be Erik Bedard, with good reports coming out of camp that the lefty is healthy and ready to contribute. When Bedard has been able to take the field the last three years (and not at all in 2010), he has delivered on the promise he flashed in 2009-09 with the Orioles. If Bedard can put together a full season, he could easily be the club's No. 2 starter.
The No. 5 starter appears to be Michael Pineda, the No. 20 prospect in CBSSports.com's Top 100 Prospects list. This isn't a surprise, as Pineda's talents are exceptional and appears near-ready for the majors. However, to come out with Pineda starting the season in the rotation is a bit odd. While money shouldn't be a major influence in a player's arrival in the majors, that's doubly so for big-market teams and/or those in competition. The Giants, for example, won the World Series on the back of Rookie of the Year Buster Posey, who was held down until late May. The Giants ended up needing the final day of the regular season to win the division.
However, the Mariners harbor no illusions that they are not better than the Rangers and Athletics, if not the Angels as well. While .500 is not out of reach for Seattle, the added value of keeping Pineda down until he wouldn't qualify for being a Super Two arbitration-eligible player seems worth more than having Pineda grab 32 starts with the big-league club. While Seattle is a big-market team, that doesn't mean the M's shouldn't take advantage of the rules.
Plus, Pineda hasn't torn apart Triple-A yet and only has 12 starts at that level. The 22-year-old posted a 4.76 ERA last year in those 12 starts after a 2.22 mark in 13 starts. Pineda's strikeout and walk rates in Triple-A held steady, but coughed up a few extra home runs that was likely the difference in the ERA. There just doesn't appear to be an overwhelming reason to bring Pineda up immediately along with No. 8 prospect Dustin Ackley who is preparing to become the second baseman.
Once the calendar flips to June, absolutely bring up Pineda and Ackley. Until then, the Mariners need to focus on getting these players additional seasoning at Triple-A and delaying their clocks as long as possible.
For more baseball news, rumors and analysis, follow @cbssportsmlb on Twitter or subscribe to the RSS feed.