Brett Gardner
has a suggestion for the All-Star planning committee.
"I think they need to have a race at the All-Star Game, just line up 10 or 20 guys and see who wins," the Yankee told the
New Jersey Star-Ledger
prior to the Game 2 loss.
Gardner named teammate
Greg Golson
and Ranger outfielder
Julio Borbon
as part of the top candidates, but wouldn't say who No. 1 would be.
"There's only one way to find out," he said.
Well, the All-Star Game is over and there won't be another one for quite a while. But it's never too early to look ahead. Here's who could be part of the 2011 All-Star speed demon contest.
Brett Gardner
: Gardner swiped 47 bags and came in second on Bill James' speed score with 8.1. The speed score averages stolen base percentage, frequency of attempts, percentage of triples and runs scored percentage.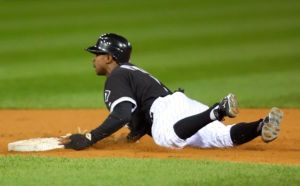 Carl Crawford
: Crawford paced the bigs in speed score with 8.5, and tied Gardner with 47 steals.
Jacoby Ellsbury
: Ellsbury stole 70 bases last season and could have repeated if not for being sidelined all season with injuries. He had a 8.1 speed score.
Austin Jackson
: Jackson burst on the scene in 2010 with excellent defense and added 27 stolen bases.
Shane Victorino
: The Flyin' Hawaiian has stolen 37, 36, 25 and 34 stolen baes the last four years, respectively. He's also near the top of leaderboards in all years in speed score.
Michael Bourn
: Bourn paced baseball in speed score in 2009 with an 8.6 mark. He has led the NL the last two years in stolen bases.
Elvis Andrus
: Andrus impressed with a speed score in 2009 of 8.0, tacking on 33 stolen bases. He finished with 32 in 2010, but did dip down to 5.8 in speed score.
Julio Borbon
: We'll take Gardner's advice and place Borbon on the list. He stole 15 bases in 468 plate appearance with a speed score of 6.1. His speed score was 6.3 in 2009, and swiped 19 bags in 179 PA.
B.J. Upton
: Upton has matched or topped 42 stolen bases each of the last three seasons and set a career-high in 2010 with a 7.5 speed score.
Juan Pierre
(pictured): Pierre is 32, but can still bring it. He set a career high by leading baseball with 68 stolen bases in 2010, but his speed score did tumble to 6.9 after a 7.5 mark in 2009.
-- Evan Brunell
For more baseball news, rumors and analysis, follow @cbssportsmlb on Twitter or subscribe to the RSS feed .