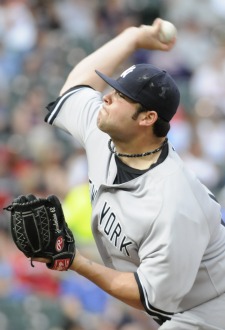 The
Yankees
"paid a price" for waiting on
Cliff Lee
, general manager Brian Cashman
told Marc Carig of the Star-Ledger ,
as the team is still looking for a starter (or two) to round out its rotation.
"There's not much available, to be quite honest," Cashman said.
The Yankees have requested the medical records of Freddy Garcia. The team apparently isn't interested in Brandon Webb, but Cashman wouldn't comment either way.
"Bottom line is there is a price to pay for waiting for Cliff Lee," Cashman said. "Now, part of that price is definitely going to be loss of previous opportunities that [existed]. At the same time, now it's going to have to be some patience. Now it's going to be a steeper mountain to climb, which is fine, because we can climb it. Steeper meaning it's going to take a longer way to get there. IT's a harder road to travel. That's OK. You can still get there."
One person the team won't consider in the rotation is
Joba Chamberlain
, who battled for a rotation spot last spring and then spent all of 2010 in the bullpen.
"His stuff plays so much more significantly out of the pen," Cashman said. "We've given him the opportunity to show what he can do out of the rotation and the velocity dropped. It's just not the same stuff."
Cashman has repeatedly said he's moving on as if left-hander Andy Pettitte will indeed retire. That means their current rotation is
CC Sabathia
,
A.J. Burnett
,
Phil Hughes
and then whoever else is ready, likely
Ivan Nova
.
In addition to starting help, New York is also searching for right-handed bullpen help, a right-handed hitting outfielder and a utility player.
-- C. Trent Rosecrans
For more baseball news, rumors and analysis, follow @cbssportsmlb on Twitter or subscribe to the RSS feed.