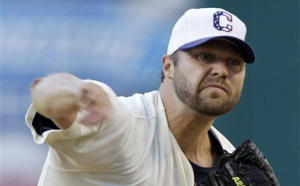 Now that the
Indians
have traded
Russell Branyan
, their annual fire sale has begun again as they try to bring in pieces to eventually send Cleveland back to the top of the division.
Paul Hoynes of the
Cleveland Plain Dealer
runs
through some candidates to be traded, chief among them
Jake Westbrook
. Westbrook missed nearly two seasons with Tommy John surgery but has come back strong, starting 17 games and posting a 4.59 ERA. He would be a fantastic middle-of-the-rotation get for a team, but the $11 million due him in the year is prohibiting any clear favorites.
While there has been some interest in Westbrook, Hoynes says the Indians almost certainly need to chip in to help pay the remainder of Westbrook's salary if they hope to get anyone worth dealing Westbrook for.
Fellow big-salaried pitcher
Kerry Wood
is also unquestionably available, but teams are skittish about his consistency and -- surprise -- amount owed. He will make a total of $10.5 million on the year, and some team may yet bite near the end of August, when he could be available through trade waivers. Such a move would allow teams a longer evaluation period, dole out less money and get Wood on the staff in advance of the August 31 deadline to set playoff rosters.
Jhonny Peralta
is also slated to become a free agent and is also on the trading block. However, the former shortstop has seen his star dim significantly in recent days and has seen all semblance of power disappear. He was once linked to the
Phillies
to help fill the void left by
Chase Utley
and
Placido Polanco
, but a source tells Hoynes there is no interest on Philadelphia's end.
Hoynes wonders aloud about the
Twins
as a trade partner for Peralta, and also believes
Austin Kearns
could be available to a team seeking a stable outfield option off the bench.
Along with the fading
Marlins
, the Indians may be in the best position of any selling club due to the various options they can present to teams with needs. However, can Mark Shapiro make an impact in his final season as a general manager? What he pulls off -- or doesn't pull off -- at the trade deadline will tell a lot about the state of the organization.
-- Evan Brunell

For more baseball news, rumors and analysis, follow @cbssportsmlb on Twitter.