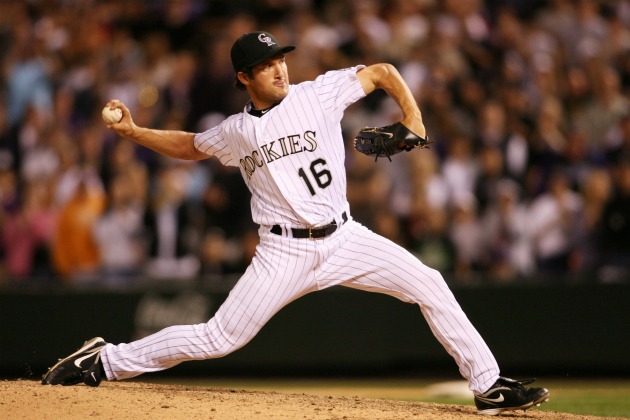 By Evan Brunell
HOT HUSTON: The Rockies have zipped out to a 7-2 start, and closer Huston Street has nailed down five of those victories. The early success has enabled Colorado and Street to put aside a frustrating 2010 season. Meanwhile, Street is reaching milestones in Colorado as he ranks third on the franchise list for total saves, but also tops the list in save percentage.
Part of Street's success -- no blown saves this season -- has to do with his changeup, which wasn't really a factor last year.
"A lot of it has to do with the weapons that [Street] has available to him when he has hitters in counts that he wants to get them into," manager Jim Tracy said. "It's a combination of two things, actually. His put-away pitches are there where we saw them in the past. That's No. 1. And No. 2, the fact that his ball is doing exactly what he wants it to do. I'm throwing it here, it goes there. That is what makes him so special. When the guy is right, he can thread needles. That's exactly what he's been doing these last few times out. The performance in Pittsburgh the other night, when he threw three innings and threw only 27 pitches, is indicative."
Street feels this season has gone perfectly so far. While he'd always be confident, the road's been a bit easier in the early going as he hasn't really had a roadblock put in his way so far.
"You always carry confidence out there. You always expect to get the job done," he said. "It's frustrating when you don't. It's more so when you're not executing because of mechanics or a lack of a feel for a pitch at a certain time. I felt that this year I had the perfect Spring Training. No setbacks, just gradually build, turn up the velocity and the intensity, and it's allowed me to develop all three pitches nicely. At the same time you've got to go out and execute, and I've been making some good pitches, and I've had some good plays behind me to help out in some big spots. It's a team game and we're winning as a team." (MLB.com)
BASEBALL TODAY: Josh Hamilton is injured again, the Red Sox lose again and the Orioles get a big early season test. Tony Lee of NESN.com joins Lauren Shehadi to discuss the latest.
BACK OFF: Manager Ozzie Guillen isn't happy about the hometown fans giving mock cheers to White Sox outfielders for catching balls hit to them. Hey, after five flubs so far in the early going, can you really blame them? (Chicago Tribune)
JUST WIN, BABY: Jayson Werth knows how it works. After bashing a home run against his former team to lead Washington to victory, Werth spoke about how important it is for the Nats to beat the Phillies -- and really, everyone else. Winning will change the culture and bring fans to the ballpark. Doesn't take a mad scientist to figure that out, but at least Werth has the right mentality after signing his lucrative contract. (MASN)
A LEGEND GROWS: Sam Fuld's incredible night Monday was not lost on the masses, who propelled him to Twitter stardom. ESPN even came calling for a couple interviews after he stroked four extra-base hits to catch everyone's attention. The outfielder came back down to earth in Tuesday's game, but his name is already out there. (St. Petersburg Times)
POWER: Justin Upton flashed some power in Tuesday's game by blasting a 478-foot home run against the Cardinals. (Matthew Leach on Twitter)
SWITCHING IT UP: Aubrey Huff and Brandon Belt could be switching positions, with Huff returning to his more familiar first base while Belt takes a crack at right. Manager Bruce Bochy has been displeased with the team's defense. But what do you expect when you play a first baseman out of position in right and a DH (Pat Burrell) in left? (MLB.com)
MORE BEER: There is a second outdoor beer garden opening a couple blocks from Nationals Park. Hey, fans need a nice stiff drink before watching a team that could lose 90 games, right? (MASN)
LONGORIA PROGRESSING: Evan Longoria has experienced no setbacks in his recovery from a strained left oblique. He'll need a few rehab games but should be able to return on schedule at the end of the month. (MLB.com)
ONLY JAPAN: Ever had to try to hit a pitch thrown by someone in midair after jumping off a trampoline? Barry Bonds and Jason Giambi had to deal with this on a trip to Japan a while back. (Fangraphs)
THANKS, CARLOS: If Indians pitchers want to thank someone for their early suggest, manager Manny Acta suggests thanking catcher Carlos Santana. Acta praised Santana's game-calling in the early going and believes getting the additional work now and seeing more teams and players that he wasn't familiar with is really helping his progression. (MLB.com)
BLAME THE JERSEY? A Pittsburgh sports columnist recently wrote an article centered around Bryan Stow, the Giants fan who was critically beaten at the hands of two Dodger fans. The two takeaways from the articles? Adults wearing sports jerseys are creepy and weird, and Stow basically had it coming. Big League Stew rightfully excoriates the article. (Big League Stew)
For more baseball news, rumors and analysis, follow @cbssportsmlb on Twitter or subscribe to the RSS feed.