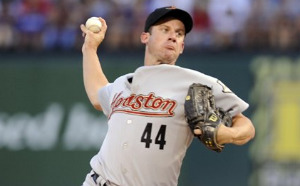 The
Dodgers
have spoken to the
Astros
,
Blue Jays
,
Diamondbacks
,
Indians
and
Mariners
about solutions to the Dodgers' pitching conundrum,
reports
Evan Drellich of MLB.com. The Dodgers need both starters and relievers.
Manager Joe Torre said that pitching is what the Dodgers are focusing on in any particular deal and expects a deal to eventually be swung. Complicating things is that Los Angeles doesn't have much left in the budget to add, thanks to the brewing divorce between owner Frank McCourt and his wife as well as a
current payroll
of $102 million according to Cot's Contracts.
So which pitchers could the Dodgers get from the aforementioned teams? Let's take a look.
Astros:
Houston has starting pitcher
Brett Myers
available who is on a one-year deal and has been the second-best starter on the team with a 3.57 ERA. Of course, there's also
Roy Oswalt
(pictured), who has a standing trade "request" but is due $15 million over the balance of 2010 and $16 million in 2011. And who's to say Oswalt won't demand the $16 million team option for 2012 be picked up if he's traded? With a full no-trade clause, Oswalt has that ability.
The Astros also have a number of relief arms, but none that stand out as an optimal replacement for the Dodgers' current arms -- at least, that would be available.
Brandon Lyon
is near untradable and it's tough to imagine Houston parting with
Matt Lindstrom
.

Blue Jays:
The Jays have lost 12 of the last 15 and are in fourth place in the AL (B)East, 11 1/2 games out. It's safe to say the honeymoon is over, and the Jays have plenty of pitching available. Their starting pitching are all young, cost-controllable and quality so it's hard to imagine Toronto dealing any of those. The relievers, on the other hand, should be plentiful.
Kevin Gregg
has extensive experience pitching in the NL and in close games. He's posted a 3.94 ERA over 32 innings. Left-hander
Scott Downs
, one of the best setup men in the bigs, is having another fantastic season and
Shawn Camp
has emerged as another qualty bullpen arm.
Casey Janssen
is just 28 and is a quality middle relief arm but certainly fungible to a rebuilding squad.

Diamondbacks:
Now that the GM and manager have been offered a ticket out of town, interim GM Jerry DiPoto has a lot of decisions to make. One of which is if
Dan Haren
should be traded, something outgoing GM Josh Byrnes also grappled with. Haren is inked through 2012, getting $8.25 million in 2010 and $12.75 million in 2011 and 2012, affordable for a perennial Cy Young contender. The question here is two-fold:
First being if the Diamondbacks would be willing to swap Haren to an intradivision rival, the second if the Dodgers have enough in the farm system to acquire Haren. The Dodgers were
ranked No. 21
in minor-league talent rankings by Baseball America prior to the season and Haren figures to command more than Lee will.

Indians:
The Indians have
Jake Westbrook
most available, who is finishing up a contract that pays him $11 million on the season. Cleveland is ready to have a fire sale (as
detailed here
) but has yet to find anyone to their liking that has been dangled for Westbrook. Westbrook would cost significantly less than one of the top-tier pitchers on the market in terms of prospects due to the contract and the fact he is a mid-rotation starter.
Kerry Wood
, provided the Indians chipped in a healthy sum of money to make up for about $5 million remaining on Wood's deal, could also head to the Dodgers.

Mariners:
The obvious one is
Cliff Lee
, of course. With about $4 million remaining to Lee, he would easily fit into the Dodgers' payroll. He would also allow Los Angeles a way to beef up its farm system by offering arbitration to the lefty after the season -- which Lee would certainly decline. The Dodgers' payroll collapses to a projected $61 million next year, so a Lee extension is possible as well.
Other potential names that may have been swapped could include closer
David Aardsma
who could fit in a pitcher's park throwing gas as a setupman. Relief pitcher
Brandon League
is having a solid season as well.

-- Evan Brunell

For more baseball news, rumors and analysis, follow @cbssportsmlb on Twitter.