Leading up to Saturday's trade deadline, the MLB Facts & Rumors team takes a look at the biggest names on the trade block. Wednesday examines one of the best home-run hitters in the game, Washington's Adam Dunn.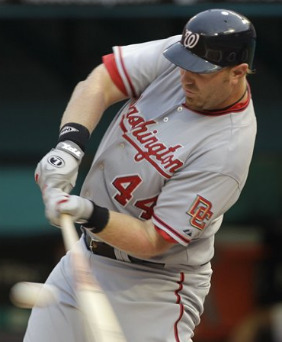 Career stats:
.251/.382/.522, 339 HR, 840 RBI
2010 stats
: .275/.362/.553, 23 HR, 63 RBI
Contract status:
Signed a two-year, $20 million contract prior to the 2009 season with Washington. Making $12 million in 2010 and projects to be a Type-A free agent after season.
Why he's desirable
Adam Dunn can change the game with one swing as one of the most prodigious home-run hitters of the 21st century. Dunn is currently enjoying a renaissance in batting average over the last two years as well (2005-08: .245 batting average, .270 since) which makes him more attractive, although his value remains tied up in walks and home runs. He is an absolute butcher on defense, although has been minimized somewhat by a move from left field to first base.
Dunn would immediately add sock to any lineup trying to make a push for the playoffs and does so at an affordable price. Any team could also offer Dunn arbitration (and be thrilled if he picks it up). If not, they grab two top draft picks to restock their farm system with. It's rare a player comes along like Dunn who fills such a perfect need with a win/win proposition in arbitration.
Why he's available
Simply by virtue of being a free agent on a team going nowhere, Dunn has been bandied about as a trade candidate all year. Reports surfaced earlier that Dunn approached the Nats about a contract extension, but these talks have gone nowhere.
While Dunn would prefer to stay with an up-and-coming team, it seems that Washington isn't prepared to commit a four-year extension to Dunn. Just 30, the odds are that the lefty stays productive for at least a couple more years and probably longer given his "old people" skills, but it's understandable why the
Nationals
would be sketchy of a four-year deal. A three-year deal might be in the cards, but it's not known if Washington is interested in that scenario as well.
There is no first-base prospect banging on the door, although the Nats may be gearing up for a big financial payout to
Prince Fielder
or
Adrian Gonzalez
after 2011.
Who is interested
The fact that Dunn is anti-DH hasn't stopped AL clubs from taking a look at the slugger. The
White Sox
have been hot to trot after Dunn for a while, at one point reportedly making their entire farm system available for him -- and the Nats weren't biting. You can bet GM Kenny Williams will do everything he can to integrate Dunn into the fold. There is a ready-made DH position for him to get at-bats in a ballpark that is a dream for home-run hitters.
The
Yankees
have also been linked to Dunn, who would pepper the right-field bleachers like nobody's business. The
Rays
have also checked into Dunn, who could really use his pop at DH as they scramble to keep pace with the Yankees. The
Angels
are seeking an upgrade, although the loss of
Joel Pineiro
for over a month may have adjusted their thinking on a contention window. The
Giants
are also hot after Dunn and may have a leg up on the competition both due to losing out on
Scott Podsednik
(although one argues that may be a good thing) and the appeal of being a NL team.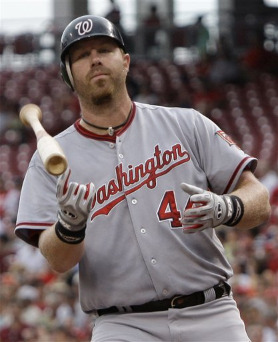 The problem here is that Dunn is anti-DH. He does not want to DH, and there are questions around just how happy and productive he would be as a DH. Fortunately for Dunn, as an impending free agent, he can control his future after the year. For the next two months, Dunn can just deal with being the DH, and the high probability of playing in October might adjust his thinking -- Dunn's only taste of contention came when he was dealt to Arizona in 2008.
The D-Backs finished two games behind the
Dodgers
. Back then, Dunn said he truly enjoyed playing meaningful baseball down the stretch, although he then found himself frozen out of the free-agent market and joining a down-and-out team like Washington.
The
Rangers
,
Rockies
and
Tigers
have also been connected to the lefty.
Expected return
Nats GM Mike Rizzo has reportedly attached a high price to Dunn, considering Dunn just as good as
Ryan Howard
. (And he's not far off the mark when talking just offense.) He proposed swapping Dunn to the White Sox for
Gordon Beckham
, something the ChiSox rejected out of hand, telling Beckham he would not be traded.
The Nats came back with an offer of
Daniel Hudson
along with a prospect -- either Jordan Danks, Tyler Flowers or Brent Morel
says
Bruce Levine of ESPN Chicago. The Nationals might be able to make the White Sox blink as the trade deadline approaches and make a swap, but it would be a tough pill to swallow. Many in the game believe Rizzo's demands will dwindle the closer the deadline is.
No names have been considered from the Yankees' end, although it wouldn't be a surprise if the Nationals asked for Ivan Nova, a similar quality pitcher to Hudson -- young and breaking into the majors. The Rays likely won't deal Jeremy Hellickson for Dunn, but Jacob McGee is a possibility.
What happens
It would be a disservice to the Nationals' future for Dunn to stay in town. Staying in town has no bearing on any possible contract extension with Washington, in addition to the fact the Nats are going nowhere. The quality of prospects being discussed for Dunn means that, at the very least, Washington should get a solid building block for the future. Washington needs to think of an actual contention window of 2012-2015, and the player acquired for Dunn has a far better chance of having an impact in those years.
The guess is that the White Sox will send Hudson along with a prospect slightly below the tier of Danks/Flowers/Morel for Dunn. Dunn won't be pleased about DHing, but will do his job, try to get Chicago into October, then run back to the NL in the offseason.
More trade deadline targets --
Jorge Cantu
(
trade profile
) |
Scott Downs
(
trade profile
) |
Roy Oswalt
(
trade profile
)
-- Evan Brunell

For more baseball news, rumors and analysis, follow @cbssportsmlb on Twitter.