Posted by C. Trent Rosecrans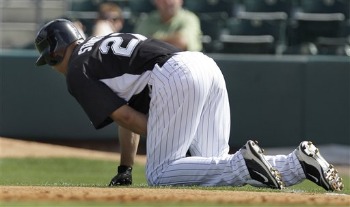 Spring is a time for minor injuries that could become bigger. For now, don't panic if you're a Marlins fan or Brewers fan... but don't totally dismiss spring injuries, some can linger all season. Both Marlins right fielder Mike Stanton and Brewers right fielder Corey Hart will miss the next two weeks.
Stanton suffered a strained right quad on Sunday and after the game told reporters he was out for two weeks. He told reporters on Monday that he felt better, but manager Edwin Rodriguez said the team will be very cautious with his return.
"He came in today, and he felt better," Rodriguez said, via MLB.com. "But still, it's too early to tell. The trainers are going to wait two or three more days to see how he feels. Then, he will have a better idea of how serious the injury is."
As for Hart, his injury may be more serious. Hart was hurt in a throwing drill on Saturday and will now spend the next two weeks resting a strained oblique muscle on his left side.
"[Dr. Craig Young] said we would probably push it a little harder if we were in the middle of the season, but there's no reason to push it right now," Hart said told MLB.com. "We're going to try easing in so we don't have any setbacks at all."
Oblique injuries have become more commonly diagnosed the last couple of years and have seemed to have be a lingering type thing. A big part of it is because that muscle is used in so many parts of baseball, from swinging to throwing and everything in-between. That said, it seems the Brewers are out in front of this one and hopefully it won't linger into the season.
For more baseball news, rumors and analysis, follow @cbssportsmlb on Twitter or subscribe to the RSS feed.