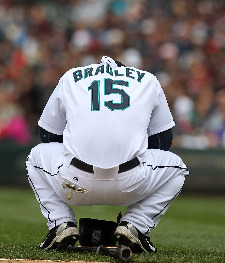 Milton Bradley
's disastrous first season in Seattle looks to be over, after the team announced that he'll undergo arthroscopic surgery on his sore right knee.
He'll have the operation Tuesday, in order for doctors to look around for damage and clean up any bone chips or irregularities that could be the source of the pain that has kept him out of action since July 26. Recovery time from the operation -- if they don't find any major damage -- is three to four weeks, and with only six weeks left in the season, the last-place
Mariners
don't really have any reason to rush him back.
Bradley came from the
Cubs
last winter in a let's-trade-horrible-contracts deal for
Carlos Silva
. Since arriving in Seattle, Bradley has flipped off fans, left the ballpark during a game and left the team for 15 days for "personal issues." Once in a while he has also played baseball, batting .205/.292/.348 with eight homers in 73 games. He's making $9 million this season and is due $12 million for next year.
Approached for comment
by reporters
in the visitors' clubhouse in Cleveland, Bradley said "I've got nothing to say" and continued his game of Golden Tee.
-- David Andriesen
For more baseball news, rumors and analysis, follow @cbssportsmlb on Twitter.