Players still get paid while they're on the disabled list and
Reds
shortstop
Orlando Cabrera
is earning his keep, serving as one of the team's batboys on Sunday.
I was watching the Reds and
Marlins
game on FS Ohio and saw him run out there and give new balls to home-plate umpire Daniel Rayburn. The announcers joked he was serving as a ball boy, and I figured he was just messing around -- until he turned around and he was wearing the team's ball boy jersey with "BB" on his back where his usual No. 2 would be. He was also wearing a helmet, like batboys.
Dan at Reds fan site
OMGReds.com
took these screen caps of Cabrera serving as a batboy.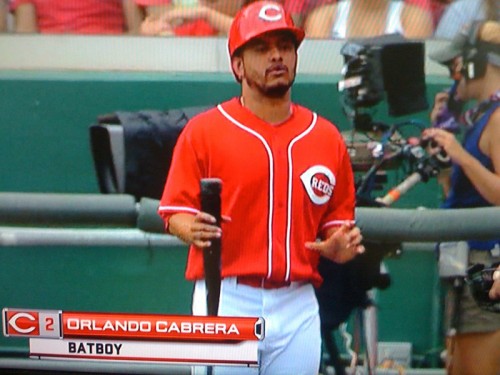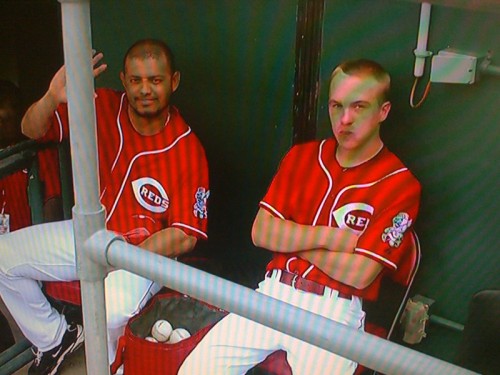 Cabrera's been on the disabled list since Aug. 3 with a strained left oblique. He's earning $770,000 from the Reds this season, not including the $1.5 million signing bonus. Not a bad rate for a batboy.
UPDATE:
Mark Sheldon of MLB.com got the big scoop
on the story -- apparently Cabrera lasted just four innings as a ballboy.
"At first, I was watching him and telling him what to do a little bit," said Reds regular 16-year-old batboy Luke Stowe, son of equipment manager Rick Stowe. "He started recognizing stuff that I did after a couple of years. I was getting pretty scared thinking he was going to take my job."
However, by the fifth inning, Cabrera called it a day and left the dugout.
"He said, 'Man, this is tough work,' and left after the fourth inning, but he did a great job," Stowe said.
-- C. Trent Rosecrans
For more baseball news, rumors and analysis, follow @cbssportsmlb on Twitter.