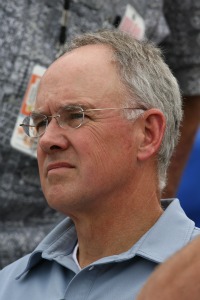 Sounds like Sandy Alderson is the
Mets
' man, and that's great news for Mets fans.
According to Joel Sherman of the
New York Post,
Alderson will be back at Citi Field on Thursday for his third interview, or maybe it's just one continuing, multi-part interview. Whatever. According to people Sherman has talked to, if Alderson manages not to throw up on Jeff Wilpon's shoes and sucker punch Mr. Met, he's going to be the next general manager. "Alderson is way more than just a frontrunner for the position. He is not a sure thing, but pretty darn close to it," writes Sherman.
This would be the best possible outcome for the Mets' GM search. The Mets, frankly, are
kind of a joke right now
in baseball circles (seriously, I can't stop watching that video), and Alderson instantly changes that. Not to say that Omar Minaya wasn't respected, but Alderson is respected on a whole other level. When he makes phone calls, they're going to be returned.
If you're not familiar with Alderson, check out his
official MLB bio.
He was a Marine pilot in Vietnam, and went on to graduate from Harvard Law School. He left a successful law practice to become counsel for the A's, and two years later became general manager. In his 14 years at the helm, the A's won four division titles, went to the World Series three times and won a championship in 1989. When the owners began slashing payroll, it was Alderson who started seriously looking at new tools to find undervalued players, taking a leading role in the sabermetrics movement in baseball.
He left to become executive VP of baseball operations for Bud Selig, left that job for four years to be CEO of the
Padres
, and returned to the commissioner's office to tackle corruption in the Dominican Republic.
Now he's reportedly jonesing to be back on the scene running a team, and that would be a big gain for the Mets.
-- David Andriesen
For more baseball news, rumors and analysis, follow @cbssportsmlb on Twitter or subscribe to the RSS feed.