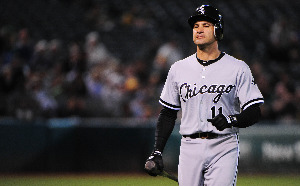 Omar Vizquel
may be 43, but he isn't ready to go home.
Since taking over as the team's regular third baseman following the injury to
Mark Teahen
, Vizquel has hit .312/.376/.376 in 214 plate appearances. Just five days prior to the torrid streak, the longtime shortstop had admitted that 2010 was probably his last season.
Vizquel was in the midst of his second full season as a bench player, and wasn't taking it well. ''Your mental process is different," he
told
the
Chicago Sun-Times
. You take different ways to prepare, and I don't know if I can do it another year. ... It makes you doubt sometimes. I don't think I want to go through that process again.''
Now that he's hitting and breaking out his usual defensive wizardry, Little O is reconsidering his stance.
'I think it would be sad that if at the end of the season I look back, look at my year, and say, 'Man, I don't think I can do this anymore,"' Vizquel said. "Taking a look at the numbers and the things that I have done this year, it will give me a good possibility to come back next year and try and see if a team is interested in wanting me again.''
Vizquel is expected to continue starting at third base even with Teahen back and is very likely to get at least 29 hits, which would push him to 2,800 for his career. Being so close to such an incredible milestone might spur Vizquel to hang on until he can reach 3,000 hits although that might not happen unless he accepts a position with a non-contender to get the playing time required.
Even then, he'll need at least two seasons to get the milestone as he has never amassed 200 hits in a season; his career high is 191, set in 1999 when hitting .333 for the
Indians
. Otherwise, Vizquel may have to play three or four more years to get 3,000 hits which seems outlandish. But
Jamie Moyer
was enjoying a solid year at age 47 before getting hurt, so who knows?
-- Evan Brunell
For more baseball news, rumors and analysis, follow @cbssportsmlb on Twitter.