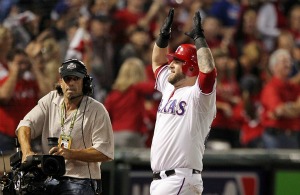 By C. Trent Rosecrans
There's nothing like baseball ratings to get people all worked up over nothing, so how about we turn the tables?
The NFL is dead!
That's right, because Game 4 of the World Series pulled a bigger national rating than the Sunday night game of the Colts and Saints, it must mean the NFL is dead, nobody cares about the NFL and Roger Goodell is an idiot and must be fired, right? That's usually the way the discussion goes anytime the ratings of World Series game or baseball game in general are compared to an NFL game, so it's only fair to overreact the other way.
Of course, I'm kidding -- sort of. The point Matt made the other day about not caring about the ratings is still dead-on. However, we've pointed out the doom and gloom of baseball ratings so many times, I think it's germane to bring up Game 4's boffo ratings. Derek Holland's gem brought in 15.2 million viewers, a 9.2/14 television rating for Fox. Meanwhile, on NBC, the Saints' 62-7 thrashing of the Colts brought in an 8.2/13 overnight rating.
There are plenty of reasons why the Saints-Colts game didn't get the high ratings -- no Peyton Manning, a 21-0 Saints lead after the first quarter, the fact that Indianapolis and New Orleans are small markets (the NFL has those too, don't they?) But it's still a Sunday night game in primetime, featuring two teams that have won the Super Bowl in the last five seasons.

Through four games, the ratings are down just one percent from last season, as the 2011 World Series is averaging 8.2/13 rating as compared to 8.3/14 through four games for last year's Rangers-Giants World Series. The predictions and pre-Series screams of woe had many expecting much lower numbers.
The bottom line, even for what has become a football nation, baseball was a better game on Sunday and the numbers reflect that people chose to watch baseball. And no matter what the numbers are for one game, we're a big enough country to support both and be able to enjoy both. The people who find baseball entertaining watched a highly entertaining baseball game. The people who don't enjoy baseball, probably didn't watch. But to pronounce one sport dead because of one night of ratings is silly -- no matter which sport has the bad night.
For more baseball news, rumors and analysis, follow @eyeonbaseball on Twitter or subscribe to the RSS feed.