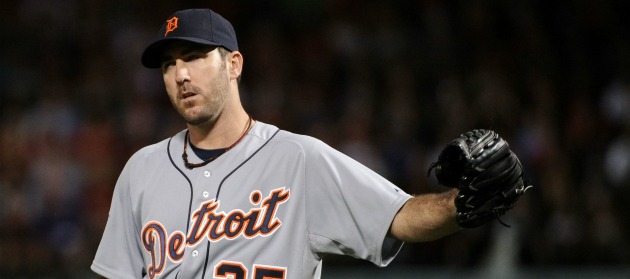 By Evan Brunell

ARLINGTON, Texas -- Rain has become a staple of the postseason lately, with Philadelphia and Tampa Bay's World Series in 2008 affected by it, as well as the Yankees-Tigers ALDS earlier this year. And now, the ALCS has been affected as Game 1 just experienced a rain delay, and it may not be the last. Rain had been drizzling off and on for much of the game but all of a sudden the jets came on for a downpour and play was quickly stopped. The tarp came off just 20 minutes later, and play is expected to resume at 10:20 ET, but there is significant rain on the way expected to last until 12 a.m. ET, so this could be a long game. With more serious rain on the way Saturday, MLB's Joe Torre said that "this game will be played."

In the early going, the story has been Justin Verlander coughing up three runs, including two in the second. David Murphy tripled Mike Napoli in, with Ian Kinsler later singling Murphy in. But the biggest blast came in the bottom fourth, when Nelson Cruz reversed his playoff fortunes by launching a ball into left-center field. Prior to the homer, Cruz had been just 1-for-16 in the postseason, and also finished September with a .190/.205/.286 skid after beginning the month on the DL with a left hamstring strain.

Skipper Ron Washington did say during the ALDS that he felt Cruz was on the verge of breaking out, liking the swings he was taking in batting practice. Well, he proved right, but more astounding is the tough time Verlander has had. Through four innings, Verlander has tossed 82 pitches, 49 for strikes. It looks like as he's been getting squeezed pretty hard by home-plate ump Tim Welke, as the below pitch F/X plot bears out. By this zone, nine pitches were called balls that should have been strikes, and another four are close enough that being called a strike wouldn't cause anyone to blink.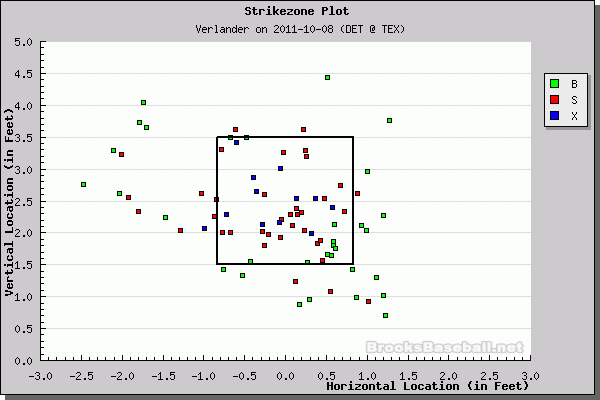 Meanwhile, C.J. Wilson danced around trouble the first two innings and has been dazzling since, striking out the side in the fourth.

Follow the game live on CBSSports.com's Game Tracker.

For more baseball news, rumors and analysis, follow @EyeonBaseball on Twitter or subscribe to the RSS feed.