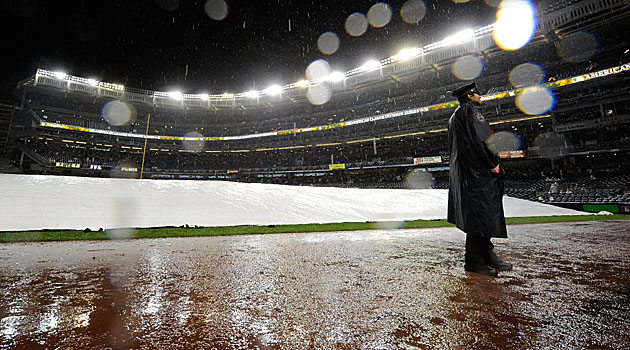 By Matt Snyder
Tigers
at
Yankees
, 8:37 p.m. ET, New Yankee Stadium, TBS
LINEUPS


* - Where the lineup will pick up. Remember, this game is resuming from the point it left off Friday night. The
score is 1-1 as we head to the bottom of the second inning
.


PITCHING MATCHUPS
Fister vs. Yankees
: He's only faced the Yankees once this season, and it was coincidentally his last start with the
Mariners
. He took the loss and it dropped him to 3-12 at the time, but that doesn't matter. He worked seven innings, allowing seven hits and three earned runs. Hardly an awful outing. He just got no run support, as was the norm before the trade. In his career, Fister has faced the Yankees three times and it's been ugly. He's 1-2 with a 6.00 ERA, 1.50 WHIP and four home runs allowed in 18 innings. Current Yankees are hitting .302 with an .857 OPS against Fister, but it's a small sample size, as none of them have seen him for more than 10 plate appearances. Also of note: Fister has never pitched in the postseason.
Nova vs. Tigers
: Not much to go on here, as Nova's never started against the Tigers. We have a one-inning sample from 2010, but do we really want to look at that? I wouldn't. It doesn't mean anything. As you'd expect, no Tigers have had more than three plate appearances against Nova, so that data would be worthless, too. Just as is the case with Fister, this will mark Nova's postseason debut.


NOTES

Fister has been lights out since joining the Tigers. He's 8-1 with a 1.79 ERA, 0.84 WHIP and his strikeout rate jumped from 5.5 per nine innings to 7.3. Better yet: His 57:5 K:BB ratio is absurd.
The Tigers won the regular season series 4-3, having outscored the Yankees 36-33.
Young's first inning home run Friday night was his ninth in 169 at-bats since joining the Tigers. He had four homers in 305 at-bats this season for the Twins.
The continuation of the game is due to the rule implemented by Major League Baseball following the 2008 World Series. Game 5 of the Phillies-Rays series was suspended for about two days and picked up where it left off. Under major-league rules at the time, it could have been ruled a complete game, as they had completed five innings. But commissioner Bud Selig noted the World Series is ruled by commissioner's discretion and he wanted a complete game. Just to firm things up, a rule was made that all postseason games will continue where they were stopped due to weather, with no exceptions.
For more baseball news, rumors and analysis, follow @EyeOnBaseball on Twitter or subscribe to the RSS feed.