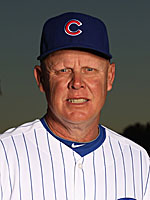 By Matt Snyder, quotes contributed by Danny Knobler
A fight between pitcher
Carlos Silva
and third baseman
Aramis Ramirez
erupted in the dugout during the first inning of a
Cubs
Cactus League game against the
Brewers
Wednesday. Details can be found
in our original post
.
After the game, Cubs manager Mike Quade spoke on the situation.
"You've got two pissed-off people," he said of Ramirez and Silva. "It was a brutal first inning. ... Maybe that's what we need. My sense was Silva was frustrated, and said something about the defense. (Ramirez) took offense."
"Today was really tough to watch," he continued. "Guys get upset. I don't think anything comes of it."
It seems as though the entire team is in need of a wakeup call, even if it's only March 2. A fight in the dugout was just the boiling point, as the team has now committed 14 errors in four games.
"I can put 14 (errors) on the board, and four or five mental mistakes. We've got to talk about this tomorrow, straighten it out. It's not in my nature to watch this."
The talk Thursday to which Quade is referring is a team meeting he's called. It's being called not only for the fight, but for the errors as well.
"I've got to do (the meeting) for me. I don't sleep if I don't, Quade said. "If we start getting after each other (fight) on a regular basis, we're going to be done."
Of course, it's worth mentioning that sometimes teammates argue when things aren't going well. And the whole team is on edge, coming off an incredibly disappointing 2010 and a tenuous beginning to the spring of 2011. It's just something that needs to be controlled by the new manager -- though Ramirez early mentioned that the air was already clear between Silva and himself.
"These are things you don't like. You'd rather it be smooth. But I'd rather have that, almost, than complacency," Quade pointed out.