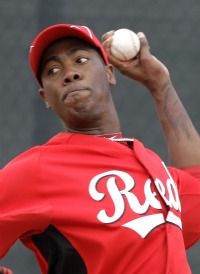 Aroldis Chapman
will be in the bullpen, but won't be the closer this season, Dusty Baker told reporters on Thursday.
From John Fay of the Cincinnati Enquirer
:
"Let's get this out of the way right now. I plan on using him like I used him last year. We'll see how he progresses with things. How many appearances did the guy have last year?"

He had 39 at Louisville and 15 with the Reds.

"That's not a lot of experience," Baker said. "Not at this level. So we made concerted effort to bring him along slowly in a lower-pressurized situation. We brought him in mostly at the bottom of the order in the seventh and eighth inning. We hope to bring him along and put him in more important roles. We know the third day in a row he wasn't nearly (effective). So we're finding out about his resiliency, what kind of stuff he has two days in a row. Relieving is new to him. We need him more now as a reliever than a starter. The fact that he's left-handed, the fact that he's throwing more strikes, it might be easier on his arm right now."

"One thing I want squash right now is closer-situation controversy. I know everyone want's to be in a hurry to rush him in there. But we've got to get him acclimated to what he's doing first. [Francisco] Cordero, even though it's been exciting at times, he's still second at least [in] our league in saves the last two years. That's something that most people overlook."
Cordero has 79 saves over the last two seasons, third behind
Heath Bell
(89) and
Brian Wilson
(86). Still, many expect Chapman to take over for Cordero, who is in the final season of a four-year, $46 million contract. He'll make $12 million this year with a club option (likely to be declined) for $12 million with a $1 million buyout. He currently has a limited no-trade clause.
The Reds still want to use Chapman long-term as a starter, but it won't happen this season. Pitching coach Bryan Price
tells Fay
that they'll continue to work on his change-up, but not use it in games -- as a reliever his fastball and slider are enough.
Price said the biggest thing he wants Chapman to do is to use his fastball to get ahead of batters, not worrying about placement much more than throwing it over the plate.
"Don't put him in a position where he's trying to shave off the inner or outer two inches of the plate early in the at-bat," Price said. "The way he comes in — if it's the 95 or the 100-plus — he's hard to get a good swing on. He's a hard guy to square up. So we don't want him to try to make the perfect pitcher's pitch on the first pitch. We want him to attacked the zone with his fastball and slider and get ahead in the count."
As for Chapman, he
tells Fay
he's happy as a reliever.
"I didn't think about it too much: My job is a reliever. I'm a reliever now," he said. "I want to be a starter but I don't think about that. My job now is to be a reliever. That's job I'm going to do. The day they want me to be a starter, I'll start thinking about it."
-- C. Trent Rosecrans
For more baseball news, rumors and analysis, follow @cbssportsmlb on Twitter or subscribe to the RSS feed.