By C. Trent Rosecrans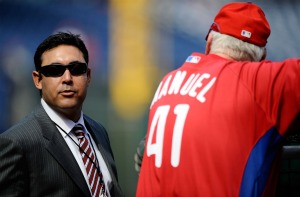 The Phillies may have some questions about Chase Utley's health, the team's third baseman and the interim right fielder until Domonic Brown is ready to return, but general manager Ruben Amaro Jr. says the team won't do anything because there's no room in the budget.
"I have no money to play with," Amaro told Jim Duquette on MLB Network radio (via the Philadelphia Daily News). "Our payroll is going to be over $160 million or so and I'm tapped out, my friend. Maxed out."
He said trades were out of the question, too.
"And those rumors you're hearing about third basemen and acquiring [a] second baseman and third baseman?" Amaro said. "All b.s., my friend. Just so you know."
Of course, Daily News beat writer David Murphy notes Amaro made the same calls of payroll inflexibility at last year's trade deadline when Philadelphia traded for Roy Oswalt and took on approximately $11 million over two seasons. He also cried poor this offseason and was able to squeeze out $120 million over five seasons for Cliff Lee.
The team could clear some space by moving Joe Blanton, who Amaro has said isn't going to be traded.
So, anyway, get ready for that big Phillies trade, because the storm winds are a blowin'.
For more baseball news, rumors and analysis, follow @cbssportsmlb on Twitter or subscribe to the RSS feed.