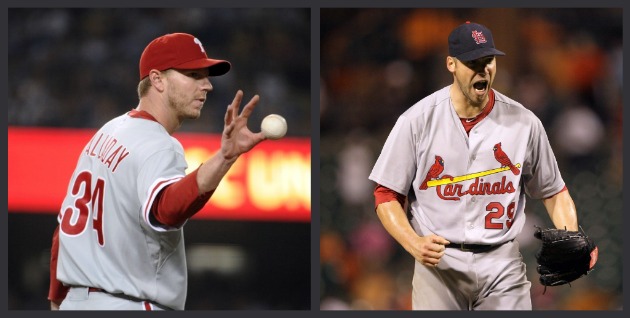 By Evan Brunell
Cardinals vs. Phillies, Citizen's Bank Ballpark, 8:37 p.m. ET on TBS
When the playoffs began, no one gave the Cardinals a shot. Really, no one.
Not one of CBSSports.com's baseball experts picked St. Louis to advance, and only Danny Knobler thought it would go the maximum five games. And yet, here we are, Game 5 in Philadelphia with Roy Halladay going up against Chris Carpenter. The Phillies are still the more vaunted team but when it comes down to one game, anything goes. The Cardinals already took a game in Philadelphia, so they don't have the bugaboo of having to play in Citizen's Bank Park. Add in a rather convincing win on Wednesday, in which Philadelphia didn't score after the first, and one has to think the Cardinals just might have the upper hand heading into Thursday's game.
One problem with that, though: Halladay. The right-hander may or may not win the NL Cy Young Award this year if Clayton Kershaw has anything to say about it, but either way, he had a Cy Young-caliber season and already has two of these trophies to his name. On paper, it's a drastic mismatch against a former Cy Young Award winner himself in Carp, who took home the award in 2005. Both Carpenter and Halladay are ex-Blue Jays teammates, which makes the matchup that much sweeter.
LINEUPS
PITCHING MATCHUPS
Carpenter vs. Phillies: Carpenter blew up against Philadelphia in Game 2, going on three-days rest although St. Louis eventually won the game. Going just three innings, Carpenter coughed up four runs on five hits and also walked an uncharacteristic, struggling with the strike zone. That was the game Tony La Russa complained on national TV about the zone despite no evidence toward the umpire displaying prejudice to St. Louis. The extra day of rest could help Carpenter return to his dominating ways, as he gave up just one run in two starts against the Phillies in the regular season. Chase Utley is 7 for 15 in his career against Carpenter, and Ryan Howard is 3-for-11 with a home run.
Halladay vs. Cardinals: Halladay coughed up three runs in Game 1, all coming in the first inning on a three-run home run by Lance Berkman -- the second straight time Berkman homered off Halladay in the first inning. In the regular season, Halladay registered a 3.21 ERA, losing in September after surrendering four runs. Including Game 1, Albert Pujols is just 3 for 14. Skip Schumaker, who collected two hits in Game 1, has a .364 batting average against the right-hander in 12 plate appearances.
NOTES
Matt Holliday finally made his first start of the postseason in Game 4 and is expected to start again in Game 5.
Cliff Lee volunteered to be available in the bullpen if needed, but its doubtful Charlie Manuel will use him. The Phils have a capable bullpen, but never say never -- it is Lee's throw day, so it could happen.
The Cardinals and Phillies will be playing the second Game 5 of the LDS, with the Yankees and Tigers playing the first on Thursday night. Arizona and Milwaukee are also slated to play a Game 5 later Friday, giving the 2011 season three Game 5s in the LDS. From 2004 to 2011, there were just two Game 5s total.
The forecast is currently projected to be 51 degrees at nighttime with no chance of rain and minimal wind.
For more baseball news, rumors and analysis, follow @EyeonBaseball on Twitter or subscribe to the RSS feed.