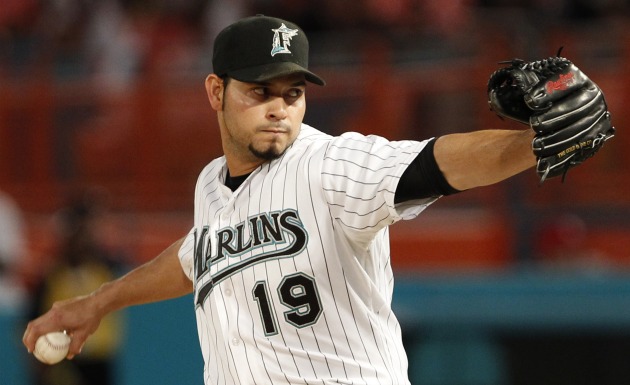 By Evan Brunell
3 UP
Anibal Sanchez, Marlins -- Sanchez took a no-hitter into the ninth inning but had to settle for a complete game one-hitter. He's already tossed a no-no, so the former Red Sox farmhand clearly has no-hit stuff -- he just needs to stay healthy. He finally got a full season in last year, and the 27-year-old appears on the verge of stardom. His ERA entering the game was 5.53, but given his 3.57 xFIP, that was bound to go down. It did, all the way to 3.55.
Jose Bautista, Blue Jays -- Think it's time to take Bautista for real? Plenty were skeptical about the former backup repeating his career year, but the 30-year-old has pretty solidly shown he's here to stay. He went 3 for 3 with two walks, a RBI and four runs and Toronto needed all of them to beat the Rays in 11, 6-4. Bautista is now hitting a cool .339/.480/.661 and pitchers clearly want nothing to do with him. If he does end up walking 136 times this year (what he is pacing), that would be the most bases on balls in a season since Barry Bonds walked a ludicrous 232 times in 2004. Bautista had 100 last year, so it could happen.
Cole Hamels, Phillies -- Hamels was a man among boys, going eight long before graciously allowing Ryan Madson to notch a save. He allowed just four hits and three walks and whiffed eight, blanking the Padres in a 2-0 victory. Every one of San Diego's starter except third baseman Alberto Gonzalez struck out, and even Gonzalez didn't have a full game as he was lifted after two at-bats. The No. 4 starter, Hamels is showing he belongs in the conversation with best pitchers in the game, as his ERA dipped below 3.00 to 2.92.
3 DOWN
Rain -- The weather was not kind Friday, wiping out three games. The Yankees/Orioles, Nationals/Pirates and Indians/Twins games will have to be made up at another time. It's not that common you see three games wiped out and although every April people moan about rainouts, it feels especially bad this year, doesn't it?
Casey Coleman, Cubs -- Poor Chicago can't really do much here as it doesn't really have any options to replace Coleman; the Cubs have enough trouble trying to find a fifth starter. Colemans' ERA ballooned to 7.43 after Friday's debacle in which he handed the Dodgers six runs in just three innings. He whiffed four, but he also walked four. Coleman may have a decent career as a swingman for the Cubs, but the 23-year-old just doesn't have it this year.
Adam Dunn, White Sox -- Dunn is still recovering from an appendectomy, so you could excuse him for not getting in the groove just yet. Still, Friday showcased what you usually get from Dunn without any home runs -- an 0-for-4 skid with three strikeouts. Dunn's pacing for 178 strikeouts, which is nothing new for the slugger, but the White Sox will gladly take it if Dunn can swat 40 home runs. He's got two on the season, so has some catching up to do.
For more baseball news, rumors and analysis, follow @cbssportsmlb on Twitter or subscribe to the RSS feed.