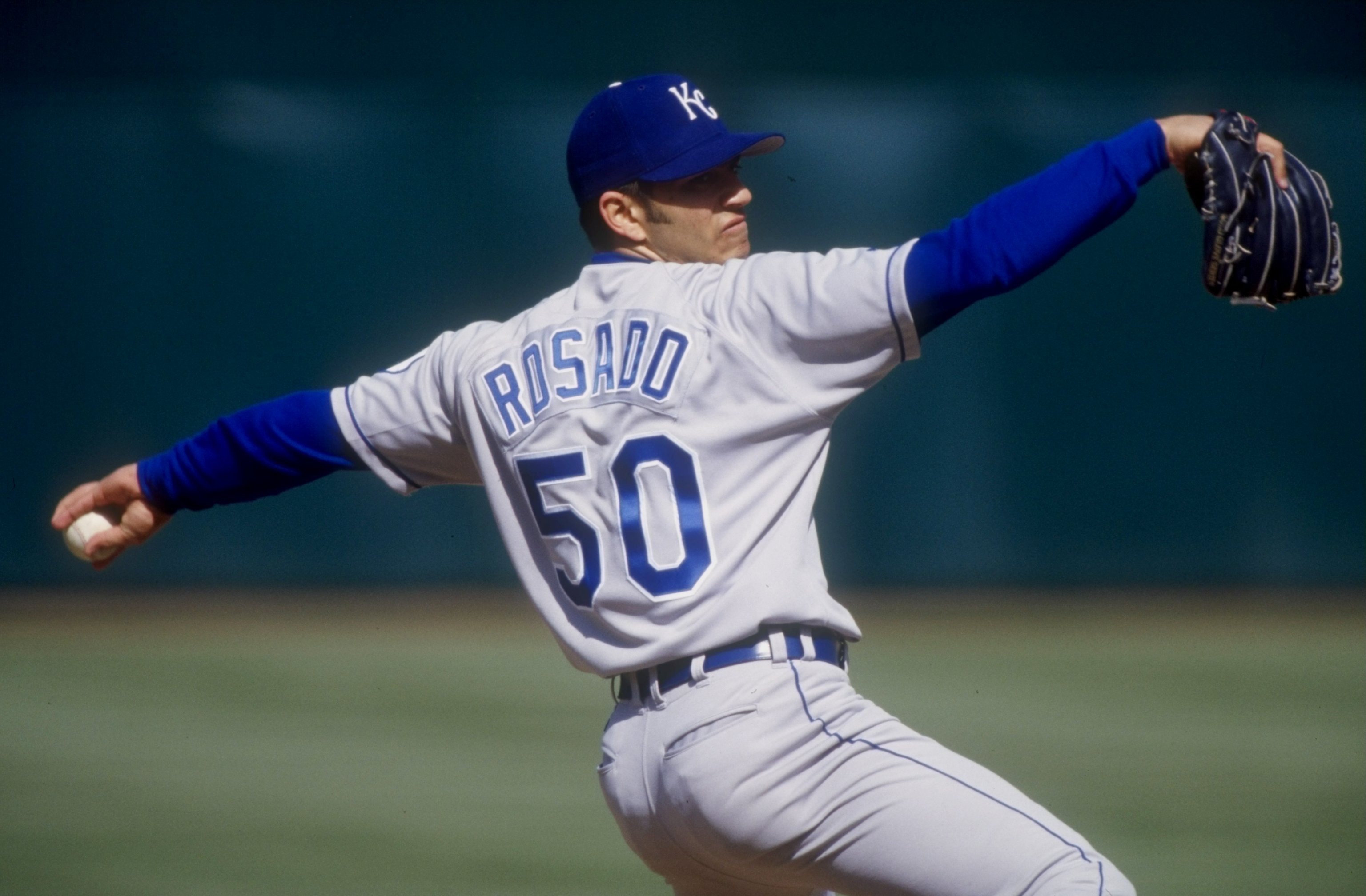 Because I grew up a
Royals
fan everywhere but Missouri, I've always been a fan of the rule requiring each team to have at least one representative for the All-Star Game.
Whether I lived in Cuba, Virginia, Texas, Japan or Georgia -- I was always guaranteed to see someone in a Royals uniform (usually George Brett) on TV every year. Not that the Royals of my youth needed the courtesy All-Star, they'd usually earned more than one berth in the game, but still, I knew there'd always be at least one. Sometimes that was the only time all year I'd be able to see a Royal on TV.
Now, though, I could -- if I wanted to punish myself -- watch just about every pitch of the Royals' awful season. With my MLB.tv subscription, my PS3, iPad and iPhone, I can watch those beautiful powder blue tops no matter where I go. That technology -- not to mention the advent of MLB Network, cable and satellite -- may have made the reason for the rule to have every team represented obsolete.
Angels
manager Mike Scioscia said he thinks the rule should no longer apply.
"I'm all in favor of having guidelines where you try and represent every team,"
Scioscia told reporters, including the Orange County Register
. "To have a hard-line rule, I think there are exceptions where a team doesn't have anyone All-Star worthy."
Scioscia was the manager of the All-Star team in 2003, when Lance Carter of the Ryas made the team with a 4.05 ERA and six blown saves.
"It's really a misnomer to say the manager picks the All-Star team. It doesn't happen," Scioscia said. "That team, with the guidelines in place, is virtually picked before it ever gets to the [manager]."
The rule helps explain why Jose Rosado's obituary will list him as a two-time All-Star and Mark Redman has an appearance on his resume.
There are currently 13 teams with losing records, some have obvious choices (like, say, the
Cubs
'
Marlon Byrd
or the
Indians
'
Shin-Soo Choo
), while it's a little tougher to choose a worthy All-Star from a team like the 24-55
Orioles
(
Ty Wigginton
,
Luke Scott
?) or the 32-49
Astros
(
Dan Haren
and his 4.56 ERA?)
Not all bad teams are created equally. The 33-46
Mariners
have three worthy All-Stars in
Ichiro Suzuki
(who will no doubt be voted into the starting lineup by fans),
Cliff Lee
(if he's still a Mariner in a week) and
Felix Hernandez
. Even the Royals, at 35-45, wouldn't be embarrassed by
David DeJesus
,
Joakim Soria
or even
Zack Greinke
, who is having a down year.
If the game is truly for the fans, why not let it represent all the fans, and not just the
Yankees
and
Red Sox
? Baseball's All-Star Game is a celebration of the game with its best players and some of its nearly-best player or best players on one team. In the end, after injuries and the new rule against pitchers who pitch on Sunday throwing again in the All-Star Game on Tuesday, is it really that terrible to have the 75th best player in the game "snubbed" for the 131st?
In the end, I think of the 11-year old me waiting for Kevin Seitzer to get in the game, even if that visual is as anachronistic as my father listening to the Kansas City A's on the radio. Maybe out there somewhere, there's a kid excited about watch
Andrew McCutchen
get in the game, even if it's not "fair".
-- C. Trent Rosecrans

For more baseball news, rumors and analysis, follow @cbssportsmlb on Twitter.