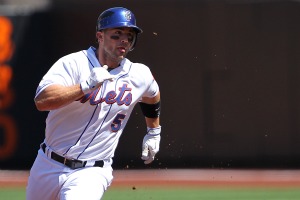 Star third baseman David Wright, the second-most tenured member of the Mets' major-league squad, feels terrible for owners Fred and Jeff Wilpon in the wake of the Bernie Madoff scandal, he said Monday to the New York Post.
"I've become very close with the Wilpon family over the years," Wright said. "They've done a lot for me. And I feel for them, just having to go through this. ... It's got to be tough. Especially when you're talking about having your family go through this in such a public way. You feel for them."
The Wilpons are being sued for $1 billion by Irving Picard, the trustee assigned to repatriating Madoff victims. Picard contends the team withdrew $300 million in fictitious profits while the Wilpons argue that should be offset by their $500 million loss. However, the central issue at hand is that these fictitious profits are fictitious regardless. As a result, the Wilpons may be forced to sell their entire team although they are hoping a proposed plan to sell 20 to 25 percent of the team will suffice.
But while Wright is concerned for the future of his bosses, he's focused on something more important.
"Getting down here and playing baseball you don't have to listen to every day what's going on in that situation," Wright said. "It's almost like once you walk across these lines; it's almost like a sanctuary."
Bill Veeck, the former crackpot owner, would be proud of that statement. He once said: "Baseball is almost the only orderly thing in a very unorderly world. If you get three strikes, even the best lawyer in the world can't get you off."
-- Evan Brunell
For more baseball news, rumors and analysis, follow @cbssportsmlb on Twitter or subscribe to the RSS feed.