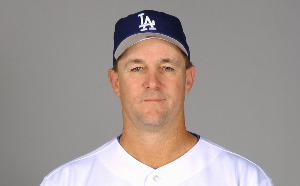 The long-standing assumption in Los Angeles has been that Joe Torre's successor as skipper would be Don Mattingly.
Not so fast.
USA Today
's Bob Nightengale
says
that Tim Wallach "is looming as favorite."
Wallach is currently the Triple-A manager for the Albuquerque Isotopes, his second season at the helm. He was named the Pacific Coast League Manager of the Year last season, when the Isotopes went 80-64, finishing in first place 11 games up.
It's unclear why Wallach is considered the favorite, although the knock against Mattingly is he has yet to manage a minor- or major-league team. The former Yankee great will skipper an Arizona Fall League team in the fall, but that's only a brief assignment. In Mattingly's favor is the fact the
Dodgers
requested he accept the assignment, presumably to get a look at his managerial skills. Not in his favor is the fact he
made a crucial error
as acting manager in July, causing the Dodgers to drop a game to the
Giants
.
Wallach, meanwhile, has plenty of managerial experience. The 52-year-old also served as the team's hitting coach from 2004-05 under Jim Tracy, and has additional managerial experience at the lower rungs of the minors with the Dodgers,
Angels
and also served as manager at alma mater Cal State Fullerton.
Wallach was one of the more well-known players during the 1980s, grabbing five All-Star honors in a 17-year career ending in 1996. He spent 13 seasons with the Montreal Expos, but was a Dodger by the time the Expos had a dominant season in the strike-shortened 1994 season. He accumulated 2,085 total hits and 260 home runs.
Torre may return to the Dodgers, but many expect him to leave. He is a free agent and may be out of the Dodgers' price range, and may not want to return even if the price is right. The team has cut spending drastically as the team is a hot commodity in the divorce proceedings of Frank McCourt and wife Jamie.
-- Evan Brunell
For more baseball news, rumors and analysis, follow @cbssportsmlb on Twitter.