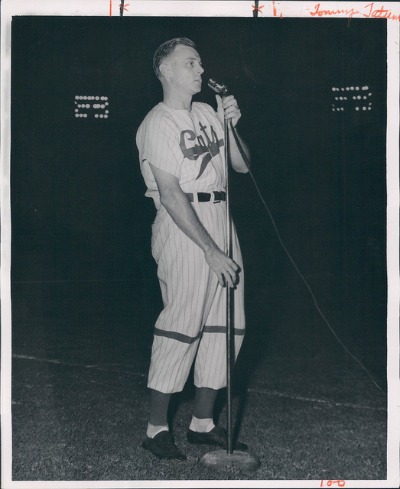 In this day and age, as umpires continue to frustrate us all with their seemingly arbitratrary strike zones, a strike-zone uniform doesn't sound like such a bad idea.
Put a stripe across the chest for the upper part and strips across the knees for the lower part. Done.
Except it already happened, as
Paul Lukas of UniWatch.com
discovered.
The Ft. Worth Cats, a minor league baseball team in 1950, wore the uniforms to the right on Aug. 19.
It didn't work out.
"I don't think much of its future," president John Reeves
told the Sporting News
on Aug. 30. "The umpire can't look at both the stripes and the ball at the same time. This move showed a gesture toward modernization, but without 'practicability.'"
But wait. That wasn't the only time strike-zone uniforms were attempted. Unbeknowest to the Cats, someone had
already come up with the idea
-- and
patented it
, filing it Aug. 18, 1948 and having it approved May 2, 1950. It took until 1952 for another minor-league franchise, this time the Triple-A Denver Bears, then affiliates of the Pittsburgh
Pirates
. (The
Yankees
would take over in 1955, with manager Ralph Houk managing many players who would go on to appear in World Series' for New York.)
The players all hated the uniforms, forcing then-manager Andy Cohen to
pose for pictures in the uniforms
. Unlike the Ft. Worth Cats uniforms, these were two-toned, with dark colors at the top and bottom and khaki in the middle, which may have made it difficult to pick up the ball. There's no indication players wore it after the July 4th doubleheader in 1952, nor how many times. However, another
Sporting News article
about the uniforms did mention the uniforms would be worn "until proven good or bad."
We all know how that turned out.
-- Evan Brunell
For more baseball news, rumors and analysis, follow @cbssportsmlb on Twitter or subscribe to the RSS feed.