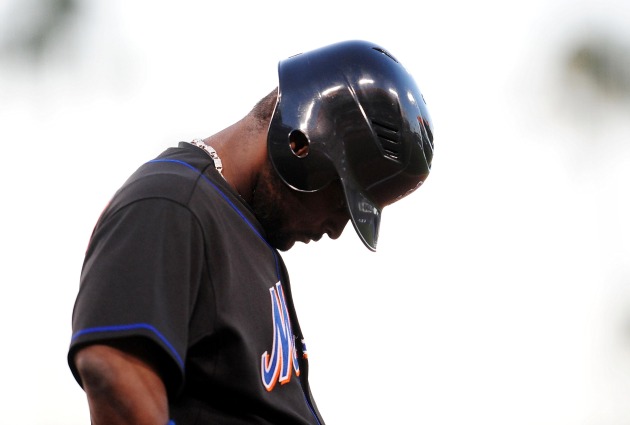 OPEN MOUTH, INSERT FOOT: Over the last few days, the Mets (especially skipper Terry Collins) have made no secret of their displeasure that Luis Castillo had yet to show up to spring training yet despite position players not being required to report until Saturday. Collins said he would have hoped Castillo would have showed up early to show a commitment to the team and to winning the second-base job. The media jumped on the story, also excoriating Castillo. With a $6 million salary in the final year of a contract that has been a headache for New York, the former Marlin is a prime candidate to be released at the end of spring training along with Oliver Perez.
One problem: Castillo was dealing with a medical issue in the family, as his 50-year-old brother is set to have "serious" surgery Monday, and quite understandably was spending time with his brother and dealing with the issues, much like a smattering of other ballplayers were late to camp due to visa complications, medical issues, births in the family and the like.
"I know my situation here, and I try to be practice baseball," Castillo said to ESPN New York upon arrival after speaking to Collins. "That's not easy, because my brother is my family.
To be fair to Collins, Castillo made no mention of this issue in a mid-week phone conversation and one would think it smart to mention it. That said, this is egg on the face for the new-era Mets they simply did not need. (ESPN New York)
THANKS, BUT NO THANKS: Kevin Millwood isn't interested in a minor-league deal, turning down an offer from the Yankees on a contract similar to Freddy Garcia. (New York Post)
WELCOME TO TAMPA, HERE'S A BOBBLEHEAD: Need more proof that Johnny Damon and Manny Ramirez are being looked at to take up the slack on the Rays? The team will hand out a ManRam bobblehead May 29 against the Indians. Damon's turn comes July 17 against Boston. (St. Petersburg Times)
HERE'S SOME TYLENOL: Concussions are taking center stage in the NFL, but baseball has its own problems. The good news? In recent years, baseball has been paying attention to the problem and concussion-related DL injuries are on the rise. Now, Jeff Zimmerman takes a look at what we know so far. The takeaway? Even 60 days after the concussion is drastically worse than the player's production leading up to the injury. (Fangraphs)
THE RED LIGHT COMES ON: Carl Crawford has a lot to live up to in his first season in Boston with a $142-million contract in hand. How will Crawford adjust to the increased pressure and media coverage? Just fine, it appears. (Boston Globe)
STAND ASIDE, Miguel Batista: There's a new author in town as R.A. Dickey plans to publish a book in the coming year that will display the "intertwining paths of his personal and professional lives, with stories and anecdotes from his childhood and through the approaching season." Dickey mentions he will be honest about certain affairs that may not please people, but will not throw anyone under the bus. Dickey is one of the more literate ballplayers in the game and is penning the book largely himself, so it will be interesting to see how the book turns out. (New York Times)
YOU CAN PUT IT ON THE BOOOOAAARRRD... YES!: Wily Mo Pena put on a power display, with second baseman Kelly Johnson saying Pena hit eight home runs for every nine swings. Pena's known for his power and BP is a great way to showcase it, but how about hitting a curveball instead? (Arizona Republic)
LOOK ON THE BRIGHT SIDE: As baseball readies for Opening Day, Andrew Simon takes a... unique look at what fans of each team have to look forward to. Hey, K.C. fans: "The additions of Melky Cabrera and Jeff Francoeur should help offset the loss of Yuniesky Betancourt." (ThePostGame.com)

-- Evan Brunell
For more baseball news, rumors and analysis, follow @cbssportsmlb on Twitter or subscribe to the RSS feed.