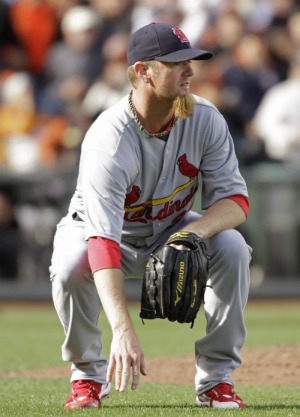 By C. Trent Rosecrans
Three out of four isn't bad. Well, unless you're a closer and you've blown three of four save chances.
The only thing worse than having a closer that can't close is the manager having zero confidence in anybody else in the bullpen.
When St. Louis manager Tony La Russa was asked if he was considering changing his closer from Ryan Franklin, he answered, "who's better?"
"Somebody's got to come up with somebody that's better on our club right now," La Russa told MLB.com's Matthew Leach. "The fact is that right now those young guys aren't better."
The young guys are Mitchell Boggs and Jason Motte, both of whom are being groomed to take over for Franklin.
In fairness to Franklin, errors by Albert Pujols and Colby Rasmus with two outs in the ninth led to two victories by the Giants on Friday and Saturday, respectively. However, the way the Cardinals are constructed, defense will not be bailing out too many pitchers this season, and Pujols and Rasmus are two of the teams' better defenders.
Sunday the Cardinals found a way to avoid a closer breakdown -- by giving its pitchers a five-run lead to close out. They were successful, salvaging the series against the Giants with a 6-1 get-away day win in San Francisco.
RED-HOT Rangers -- Jeff Wilson of the Ft. Worth Star-Telegram joins Lauren Shehadi to talk about the Rangers' great start.
CABRERA HELPING CABRERA -- The influence of veteran Orlando Cabrera has already started paying off for the Indians. During spring, Cabrera noticed Asdrubal Cabrera's approach in batting practice was that of a slugger, not a shortstop. He told him to try that in a game sometime. During the Indians' seven-game winning streak, Asdrubal Cabrera is hitting .316 with three homers and nine RBI. Asdrubal Cabrera had three homers all of last season. [MLB.com]
SIX-MAN ROTATION? -- The White Sox may look at a six-man rotation when Jake Peavy returns because of the performance of Phil Humber, at least on a short-term basis. [Chicago Tribune]
NICE MATCHUP -- For just the 21st time in history, two authors of perfect games will start against each other tonight, as Oakland's Dallas Braden faces Chicago's Mark Buehrle.
DUNN TAKE BP -- White Sox slugger Adam Dunn took batting practice before Sunday's game against the Rays and could return to the team's lineup as soon as today.
"It was good to get out of solitary confinement and hang out with the general population, you know what I mean," Dunn told the Chicago Tribune's Dave van Dyck.
However, Dunn said he was done making predictions about when he'd return when asked if he could play today against Oakland.
TINKERING -- Derek Jeter isn't the only Yankee messing with his mechanics -- right-hander Phil Hughes tinkered with his motion during his bullpen session on Sunday. Hughes is attempting to use more of the bottom half of his body in his delivery. [New York Times]
ROUSING THE TROOPS -- Rays manager Joe Maddon tried to eject all four umpires in Sunday's 6-1 loss to the White Sox. [St. Petersburg Times]
Enjoy this video while it lasts (why MLB.com won't allow embedded videos, I just don't know...)
LAROCHE CONFIDENT HE'LL BE BACK SOON -- Nationals first baseman Adam LaRoche said he doesn't expect to miss any time after leaving Sunday's game with a strained left groin. LaRoche left in the 11th inning against the Mets, but said today's day off for the Nationals would give him ample healing time. [MASNSports.com]
ZIMMERMAN UNSURE OF RETURN -- Unlike his teammate LaRoche, Nationals third baseman Ryan Zimmerman is unsure when he'll return from his strained abdominal muscle. Zimmerman will be re-evaluated on Tuesday following the off day. [Washington Post]
YOUNG UNHAPPY -- Mets right-hander Chris Young wasn't perfect on Sunday and that wasn't good enough for him or the Mets. In his first seven-inning outing in nearly two years, Young allowed just one hit and two walks, and the walk came back to hurt him, accounting for the lone run he gave up to the Nationals. After he left the game, Washington tied the game in the eighth inning before winning it in the 11th. Young picked up a no-decision, but is 1-0 with a 1.46 ERA in two starts for the Mets this season. [ESPNNewYork.com]
BACK-TO-BACK -- Mark Prior pitched on back-to-back days for the Class A Tampa Yankees on Saturday and Sunday as he makes the transition from starter to reliever in an attempt to return to the majors for the first time since 2006. Prior's fastball reached 91 on both days. [MLB.com]
NO BIG DEAL -- Cubs pitching coach Mark Riggins downplayed conflicting statements from pitcher Matt Garza and manager Mike Quade following Garza's loss to the Brewers on Saturday. [Chicago Sun-Times]
NO REPLICAS FOR FANS -- The Giants will not make replica World Series rings available to fans, but you can by commemorative jewelry from the team. So, you know, if you've outgrown your class ring, you can get a ring that's symbolic of an achievement you had absolutely zero to do with earning yourself. But, you know, if you have $3,570 dollars just lying around with nothing else to really do with it, why not? It's not like there are charities that could use it more than you can use a 14K white gold ring with diamonds and your name on it that will repel women. Seriously, just buy one of the cool hats with the gold SF the team wore the other day. [San Francisco Chronicle]
NEW BOX -- The fine folks over at FanGraphs have unveiled their new boxscore. I swear there are some stats that aren't real in there just to see if you're paying attention. Seriously, there's just about everything you'd ever want in this box, and going through one could take longer than actually watching the game. And I mean that in the most awesome way possible. [FanGraphs.com]
OLD GLOVES -- A cool graphic on the evolution of the baseball glove, or at least Spalding's gloves (and a bonus Wilson one, even though I've always been a Rawlings guy). [UniWatchBlog]
NICE DAY AT THE PARK -- What's better than a beautiful Sunday at the ballpark? Try a day at the park followed by a post-game concert by the Avett Brothers. The band performed at Turner Field yesterday following the Phillies' 3-0 victory. My sisters-in-law and other friends went, plus one of my sisters-in-law met Kevin Gillespie in the beer line -- not a bad day.
For more baseball news, rumors and analysis, follow @cbssportsmlb on Twitter or subscribe to the RSS feed.