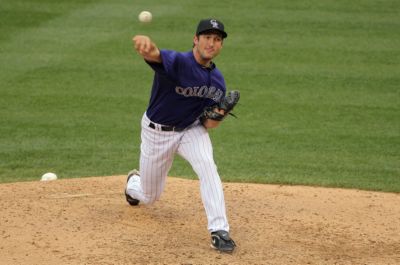 By Evan Brunell
What position in baseball has the worst job security?
Has to be closers, right? Tuesday, Dodgers GM Ned Colletti said that Jonathan Broxton had lost his grip on the job. While manager Don Mattingly later disputed that, it's clear that Broxton is on extremely thin ice. Joe Nathan, Matt Thornton, Fernando Rodney and Ryan Franklin have already lost their jobs while John Axford, Brian Fuentes, Joakim Soria and Brian Wilson have their hands full trying to reduce their ERA.
But enough about flailing closers, how about acknowledging the ones off to tremendous starts so far?
Entering Wednesday's games, Huston Street led all of baseball with eight saves against a scant 1.88 ERA for the surging Rockies. Street has 157 career saves already, although he hasn't been a full-time closer the entirety of his seven-season career. The 27-year-old has been a bit lucky to start the year, but his talent is for real.
Meanwhile, the ageless Mariano Rivera tops the AL leaderboard with seven saves, although his ERA currently would mark his highest since 2007. This is a 2.53 ERA we're talking about here.
In Atlanta, Craig Kimbrel has ran away with the job after opening up in a presumed platoon with Johnny Venters. Kimbrel's ERA is a spotless 0.96, and he's also struck out 13.5 batters per nine. Surprisingly that isn't even the highest for a closer as New York's Francisco Rodriguez has struck out a staggering 13 in 7.2 innings. Joining Kimbrel with ERA's under 1.00 is San Diego's Heath Bell with a 0.90 mark and five saves. Bell figures to be a hot commodity on the trade market this summer, although it's no guarantee San Diego will move him.
Tied with Kimbrel for six saves include Pittsburgh's Joel Hanrahan, Cleveland's Chris Perez, Florida's Leo Nunez and Oakland's Brian Fuentes. Of those, only Fuentes doesn't have a firm hold on the job, as his history indicates he's not an elite closer. That's reflected in his 4.06 ERA on the year thus far and should lose his job once Andrew Bailey returns and proves ready to assume his role.
Two other closers in Jose Contreras and Neftali Feliz with strong starts to the season only recently hit the disabled list. Of the other strong starters, Kyle Farnsworth for Tampa Bay jumps out. Here's a pitcher who's always had tremendous stuff but has been a basketcase. He seems to have become a new pitcher over the last couple years, though, and he's certainly enjoying life as a Ray with five saves and a 1.23 ERA. Still, it feels as if he's due for a blowup any time now.
For more baseball news, rumors and analysis, follow @cbssportsmlb on Twitter or subscribe to the RSS feed.