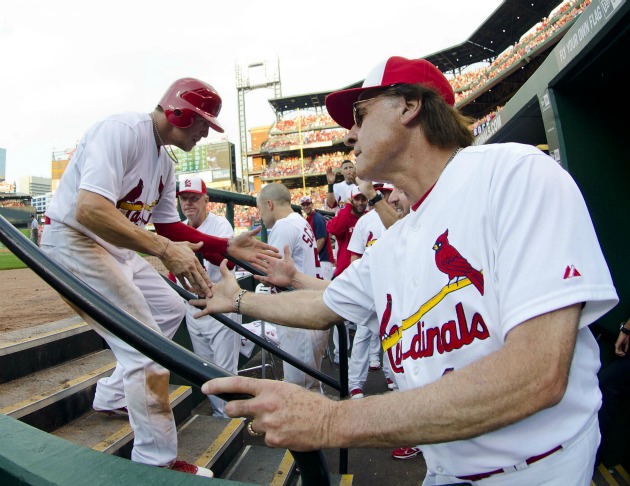 By C. Trent Rosecrans
Soap operas are being taken off network TV, but at least we still have baseball.
By the way he's portrayed, you'd expect St. Louis center fielder Colby Rasmus to be the guy with the badly dyed goatee and have ominous music every time he appears on screen. That's at least the way Cardinals manager Tony La Russa (speaking of bad dye jobs) keeps playing it.
The latest barb? Speaking to KSDK-TV in St. Louis, La Russa said Rasmus doesn't listen to the team's coaches.
"No, he doesn't listen to the Cardinal coaches much now, and that's why he gets in these funks, in my opinion," La Russa said, according to MLB.com. "If he would just stay with [basically] what they teach, he would have … but I actually feel concern for him, because he hears it from so many places, he's got to be confused."

That, of course, is a swipe at Rasmus' dad, who has been critical of La Russa publically.
The Cardinals are actively shopping Rasmus, CBSSports.com's Danny Knobler tweeted yesterday, and if they do deal him, it's got to be a sign that the 66-year-old La Russa will stick around a couple of more years in St. Louis. Dealing Rasmus doesn't make much sense (unless there's a huge return) in a baseball-sense, but it does placate La Russa. La Russa is signed to a one-year deal with a mutual option for 2012. It may come down to a decision for general manager John Mozeliak whether he wants to tie his future to a talented 24-year-old or a manager who has managed more than 5,000 games. What happens before Sunday could tell us quite a bit about the future of the Cardinals.
No platoon: Sticking with the Cardinals and La Russa, Daniel Descalso has started at shortstop in five of the 11 games since the All-Star break, but La Russa denies there's a platoon with Descalso and Ryan Theriot. [St. Louis Post-Dispatch]
Contentious in Chicago: Cubs outfielder Marlon Byrd got into a shouting match with a fan before Tuesday's game in Milwaukee. The fan yelled "you guys suck," according to the Chicago Sun-Times. Byrd responded, "We may suck, but you're pathetic."
Chipper out again: Braves third baseman Chipper Jones returned to the Braves' lineup from a knee injury on Monday, but then miss Tuesday's game and will miss the next few with a right quad injury. The 39-year-old has played in 78 games this season. [Atlanta Journal Constitution]
Conspiracy theory: Phillies fans got on Giants manager Bruce Bochy for how he used Cliff Lee and Roy Halladay in the All-Star Game. Several fans at the team's hotel heckled Bochy saying he tried to overuse both Philadelphia pitchers -- though Bochy notes he used both for fewer than 25 pitches. [San Jose Mercury News]
Throwing Trout back: The Angels are expected to send heralded prospect Mike Trout back to the minor leagues soon. [Orange County Register]
'Cool cat': That's how Giants reliever Sergio Romo described President Barak Obama after the Giants' visit to the White House. I'm sure plenty of people said that about Chester A. Arthur, too. [San Francisco Chronicle]
Reds return: Jonathan Mayo of MLB.com takes a closer look at the two minor league players the Reds received in return for Jonny Gomes.
Perfect in minors: Former Padre Justin Germano threw a perfect game for the Triple-A Columbus Clippers on Tuesday. It was just the fifth perfect game in the history of the International League. The Clippers are the Triple-A affiliate of the Indians. [Columbus Dispatch]
Barton hurt: There's nothing we here at Eye On Baseball like more than making fun of our fellow team member's bad calls -- like my call of Manny Ramirez as the AL Comeback Player of the Year -- so it never fails that any mention of Daric Barton gets Evan Brunell some good-nature ribbing. Brunell said he'd take Barton over Prince Fielder, Mark Teixeira or Ryan Howard -- so yeah. (Of course, I had some questionable picks, too -- Rasmus No. 1 in center?) But the point other than making fun of Evan? Well, it's that Barton, now in Triple-A, has a tear in his labrum and will see a doctor today. [San Francisco Chronicle]
For more baseball news, rumors and analysis, follow @cbssportsmlb on Twitter or subscribe to the RSS feed.