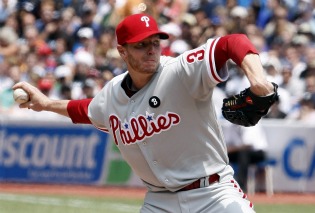 By Evan Brunell
If Phillies pitching coach Rich Dubee has his way, Roy Halladay will not start in the All-Star Game, a designation that requires pitching at least two innings, the Philadelphia Inquirer writes.
"You're looking at a guy that's leading the league in innings pitched by a pretty good size," Dubee said. "I don't know that you can deny [the starting job]. It would be an honor. But at the same time, this guy is taking on a big workload again, like he always does. We'll wait and see what happens."
Halladay was named to his seventh All-Star Game on Sunday, and if he starts, will do so for the second time after representing Toronto in the 2009 All-Star Game. He does indeed have a high workload, with his 136 1/3 innings pacing baseball. But Justin Verlander is right behind him with 135 1/2 innings. If you limit it to just the NL, Halladay's teammate Cliff Lee is second with 129 1/3 innings.
This is a man, though, that has broken the 250-inning barrier twice and hasn't gone under 220 innings since 2005, when he made 19 starts. It doesn't seem as if Halladay would be adversely affected by starting the game, so let's call it as it is: Dubee simply doesn't want Halladay pitching, and putting him at risk for injury or future ineffectiveness, if he's not playing in a Phillies game.
Halladay, meanwhile, is with Dubee.
"Obviously you go there to pitch and that's the main idea, but there are definitely other guys that are worthy of it," Halladay said. "Whether they ask me or not I don't know. The only thing I always try to keep in mind is how is this going to affect me going forward? Obviously starting you have to pitch longer than if you come in later. Not that it's always in your control, but it's just things you consider and you talk over with the staff here."
On Sunday, C. Trent Rosecrans broke down the possible starting pitchers, and Halladay was the call for the NL. A close second, however, was Jair Jurrjens of the Braves. Jurrjens is currently 11-3 with a 1.89 ERA.
For more baseball news, rumors and analysis, follow @cbssportsmlb on Twitter or subscribe to the RSS feed.