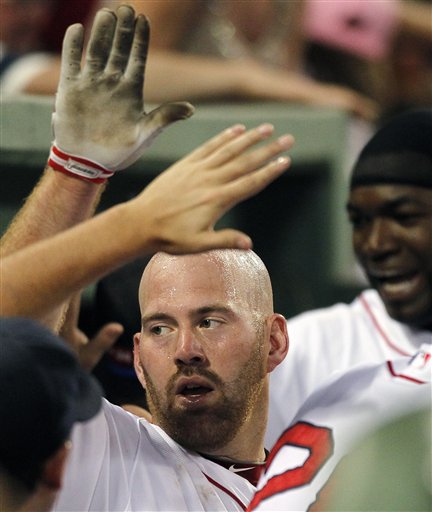 Apparently we're getting official releases on the All-Star Game Final Vote daily now, and even though it's getting kind of boring, the results are there. And it appears the '75 Series team-up of the
Red Sox
and
Reds
is working, as
Kevin Youkilis
and
Joey Votto
are the leading vote-getters.
Monday, the teams announced a partnership, asking fans to vote for both players. Youkilis is a Cincinnati native and played at the University of Cincinnati, while Votto has been the cause celebre since Charlie Manuel announced the team.
Both are deserving of the nods, so it's nice to see the fans getting it right again -- although they could still screw it up in the next 48 hours.
Youkilis overtook the
Yankees
'
Nick Swisher
in the last 24 hours, while
Michael Young
,
Paul Konerko
and
Delmon Young
trailed. Youkilis is third in the American League in OPS (1.002) and tied for seventh in homers with 17. Konerko is seventh in OPS (.948) and tied for second in home runs with 20.
Votto overtook the National League lead in home runs with two Monday night against the
Mets
. He now has 21, tied with Toronto's Jose Bautista for the majors' lead. Votto also leads the NL in on-base percentage (.418), slugging (.599) and, naturally, OPS (1.017).
Although vote totals are not released, Votto leads
Ryan Zimmerman
,
Billy Wagner
,
Carlos Gonzalez
and
Heath Bell
.
At least one of those nominees isn't happy with the attention Votto's gotten for his snub.
"I won't win the final vote,"
Wagner told the Atlanta Journal-Constitution
. "I'm not a fan favorite. ESPN is running promos for Joey Votto, what's that tell you."
Yep, we all know, that great midwest bias -- every time you turn on the TV, it's Cincinnati, Kansas City and Cleveland (well, it is Cleveland, but it has nothing to do with
Shin-Soo Choo
).
Wagner has 17 saves and has a 1.35 ERA and a .165 opponents' batting average, as well as the sentimental card, as he's announced he's retiring at the end of this season.
As for the Reds-Red Sox partnership, the Reds will wear "Vote Red" and "Vote Votto-Youkilis" shirts for batting practice Wednesday at Citi Field, according to
MLB.com's Mark Sheldon
. The Reds equipment manager, Rick Stowe, has written "Vote Red" and "Vote Votto" on batting practice balls to remind fans to vote, as well. The
Toronto Sun
has also joined in the efforts,
publishing a "Vote for Votto" campaign page
for the Toronto native.
In addition to the Reds stumping for Youkilis, John Kerry is campaigning for the Red Sox first baseman,
sending out an email asking his supporters to participate in the vote
.
-- C. Trent Rosecrans

For more baseball news, rumors and analysis, follow @cbssportsmlb on Twitter.