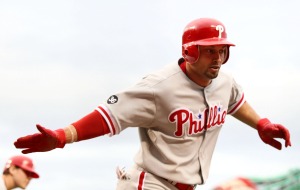 Shane Victorino
and manager Charlie Manuel are at odds on the center fielder's production, in which the Flyin' Hawaiian's line dropped to .259/.327/.429 in 648 plate appearances from 2009's .292/.358/.445 in 691 PA.
"I think he got a little bit more home-run happy," Manuel told the Philadelphia News of Victorino, watching him crank 18 home runs after just 10 in 2009. "But also, I think it might have been the fact that we've been successful. We've won games and went to a couple World Series. It might be a relaxation thing or something like that."
Victorino disagrees that his down year was due to being relaxed.
"I had a down year," he said. "At least, people thought of it as a down year, because they looked at my average. But if you look at numbers across the board, I personally couldn't say it was a down year."
That would be because of the home-run jump along with a career-high in RBI (69) and a nine-base jump in stolen bases to 34. However, his batting average, on-base percentage and doubles slipped significantly. That doesn't bother Victorino, although he does plan to try to address his batting average deficiencies.
"I'm not changing my offseason program," Victorino said. "I think I'm trying to hit a little bit more, do different things in the cage. I'm working with my hands a little more, working with my body and trying to figure out, mechanically, what I might have been doing wrong.
"I've also thought about next year trying to bunt more and doing different things like that. There are a lot of things you try to find an answer for."
Victorino also wanted to address Manuel's concerns about being too relaxed.
"People try to use that as an answer. Why did guys struggle? Oh, because they're comfortable. Charlie used that word complacent. I don't know. My definition of complacent may be different than Charlie's. Our team, I don't think, ever gets complacent. It's not us. It's not our nature. It's not the way we are," he said.
Manuel had said that Victorino did not stay as focused in 2010 as he usually did.
"We talk about consistency," Manuel said. "Every time we have a meeting, [we say] the game is about staying focused. They say, 'Oh, there's nothing wrong with us and we'll win tomorrow. We'll get 'em a couple days from now or next week or whatever.' I think, sometimes, when you get secure, you get relaxed. It's not like you mean to do that. It's just kind of human nature. And all of a sudden you've got to be woken up to how you're supposed to play.
"It's hard. You've heard me say we're getting too complacent or we're getting relaxed, this and that. But you go tell somebody that and he acts like he don't see that. Being around as long as I have, in a way, I kind of understand that. But, at the same time, you have to back up and take inventory of yourself and be honest with yourself."
It's going to be difficult for the Phillies to manage expectations. Coming off a World Series title, a NL pennant, acquiring Roy Halladay and falling short of the World Series only to walk out and grab Cliff Lee, expectations will be high in Philadelphia. If the club doesn't win the World Series, it will be unavoidable for the team to be questioned for its desire to win. But Victorino disagrees with his skipper in that staying focused is an issue.
"I absolutely understand why people would say that. But you look in our clubhouse. There's no way our demeanor has changed. Our hunger is just the same. We ended up with 97 wins, the best record in baseball. In our defense, there's no way you can say our team let up because of multiyear deals or because of big contracts. There are a lot of expectations and a lot of hunger. There are a lot of guys who want to turn things around and show people they're still on the map from the offensive side."
-- Evan Brunell
For more baseball news, rumors and analysis, follow @cbssportsmlb on Twitter or subscribe to the RSS feed.